Disclaimer:  The following post is part of a campaign, review or sponsored post.  I was given the product and/or have been financially compensated for the following post.  Post may also contain affiliate links. As always though all thoughts are 100% my own, as are most of the pictures included.
I was lucky enough to get a full-fledged VoxBox free from Influenster for the Spring.  It's called the Spring Fling Vox Box.  Filled with all sorts of goodies to keep you prepared for nice weather.
Let's take a quick peek into what the Spring Fling VoxBox has in store for me.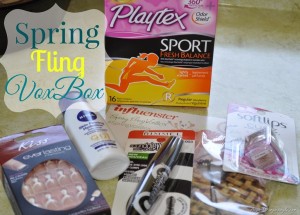 Rimmel London Scandaleyes Retro Glam Mascara – $5.99 – I actually just recently got this from the Pretty Little Beauty Swap so I didn't even have to open this one and it just found its way into my gift tote box.  Never know what you may find in that little thing.  The 60's are back in full swing with a thicker, fuller, wide-eyed look!  No clumps and get the look you want with ease.
Kiss Everlasting French Nails – $6.49 – I have never had any luck with these fake nails, but am always willling to give them a go and see how they work.  I haven't opened the box yet to try them on.  Maybe a full review on it in the future.  Have you tried them yet?
Peach Pie Car Freshener from the Labor Day Movie – in honor of the DVD release of  the movie Labor Day – buy now for $19.99
Playtex Sport Fresh Balance – $3.99 to $4.99 – with odor shield and 360 protection you don't have to worry .  I won't be using these, I don't do tampons.  I haven't decided yet what I am doing with this box.
Nivea Skin Firming Hydration Lotion – $2.49 for 2.5oz/$10.99 for 13.5oz – in little as 2 weeks you can see firmer more toned skin.
Softlips Cube – $3.49 – I have already used this one many times over.  I love the shape of it and if you put it down it doesn't wibble wobble.  Also has 5 formulas to help your lips!  Love it!
There we have it, the Spring Fling VoxBox from Influenster.  Is there something in here you are curious to hear more about?