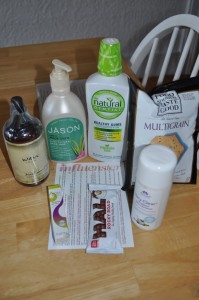 I went outside today to check the mail, and to my surprise and delight sitting in between my door & the screen door was my VoxBox from Influenster. This is my first box from them, so it added into my excitement. I qualified to receive it just by telling others right here about the Green School Makeover Contest, simple as that was.
Inside my lovely August Naturals VoxBox was several full sized products for me to test and review.
Wen by Chaz Dean – Sweet Almond Mint Cleansing Conditioner – I am really excited to test this. I have heard such good things about the Wen collection.
Derma E – Very Clear Problem Skin Cleanser – always excited to try a new facial cleanser, especially dealing with problem skin which has always been an issue for me.
The Natural Dentist – Pleasant-tasting Healthy Gums Anti-gingivitis Rinse – again love my teeth and always like to find something new to try and give a try.
Jason Natural – Pure Natural Soothing Aloe Vera Hand Soap
Juice Beauty – Conditioning Lip Color – Love lip stuff, so this one is really exciting for me to try.
Food Should Taste Good – All Natural Tortilla Chips – yum! Well hopefully yum. Haven't tried them yet. 😉
Probar – Halo Snack Bar – again hopefully yum! teehee
Missing from my box that was suppose to be in there as well, is the Avalon Organics – Nourishing Cherry Aloe Lip Balm – I use so much lip stuff that I was really disappointed that this was missing from my box. Hopefully, they fix it, though!
So as I start using them, I'll let you know what I think of each product. Watch for updates for each product coming up! 🙂