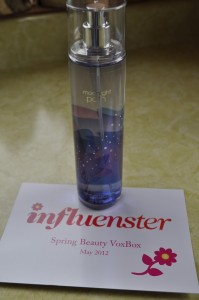 I have always been a huge fan of Bath & Body Works. Weather it was their lotions (personal fave!), their perfumes, or their various other products. I always find something I must try while in a Bath & Body Works store.

Which is why I couldn't have been more excited when I saw that in the Influenster's Spring Beauty VoxBox was a Bath & Body Works Fine Fragrance Mist to try and give my thoughts on! I waited and waited on my box to arrive to see which scent I was sent to test. While waiting I was silently hoping it wasn't one of the scents I had grabbed last time I was in Bath & Body Works with my sister back in March. We had came across this new Fragrance Mist and couldn't help but get ourselves three each. The ones I ended up grabbing back in March were: Paris Amour, Dark Kiss, & Forever Sunshine.

Finally, my box arrived, safe and sound on my porch. Sadly it came the day that I had my wisdom teeth out, so I was in recovery mode and couldn't be as excited as I'd normally be on the box arriving. Happily, I have an amazing husband who opened the box for me and showed me everything in it and opened the Bath & Body Works Fragrance Mist for me to smell. I was giddy, it wasn't a scent I had, and I LOVED it. I received the Moonlight Path in my Influenster Spring Beauty VoxBox.

I have a hard time usually describing how something smells to someone, so instead of me trying to tell you what it smells like, I am going to go off the Bath & Body Works site and tell you what they say it smells like.

Moonlight Path:
Top Notes: Bergamot, Lavender, Mandarin, Coriander
Mid Notes: Rose, Jasmine, Violet, Tuberose, Ylang, Lily of the Valley
Dry Notes: Sandalwood, Vetiver, Oakmoss, Vanilla, Amber, Musk
It also states that it conditions your skin and nourishes it as well, something I didn't know until now. I put it on each morning as a body spray. Spraying it on my whole body and leaves me with a nice soft pleasant smell all day long. Trust me, it smells so good (you'll have to go smell it in the store and come back and tell me what you thought!)!
There are over 20 different scents to chose from in the Bath & Body Works Fine Fragrance Mist, so you'll be able to find several that fit your personality! At only $14 a bottle, you won't break the bank and I swear that a single bottle will last you a long time. Plus Bath & Body Works have so many specials all the time, that you can usually find some kind of deal to play with to get even a better deal with it!
I received this product free to test and give my thoughts on from Influenster. All thoughts and pictures are my own (minus the copy and paste from Bath & Body Works for the description of the scent).