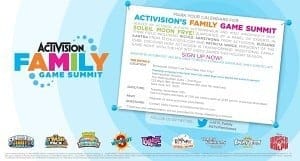 It's almost time for the Activision's Family Game Summit!! Register now for the fun. If you register before the 31st of October, then you have a good chance of receiving one of the fabulous gift bags valued at over $200! Online register or even if you can be live for the NYC event.
The feedback from last year's event was so great that they decided an online format was needed too. Even if you are not an avid gamer, like me, then you'll still find loads of fun & useful information.
The online event starts at 1p.m. EST on November 13th with Soleil Moon Frye as the online hostess, good ole' Punky Brewster, so you know its going to be a grand time indeed!
Register Here: http://activision.com/family
Don't forget to follow Activision on Twitter too: https://twitter.com/ATVI_Family
It's going to be a super fun time, so come along for the ride!