Kristin and I have been friends for quite a few years, but it wasn't until a few years back that we grew closer. I have shared her up's and down's along the way and encouraged her to do what makes her happy. I am happy to announce, she has done that. She decided to start her own little side business on Etsy to keep her busy and have herself a mission to get crafty!
Kristin is a fun, loving, caring girl and that comes out when she makes her crafts. Right now she is just doing necklaces, but she hopes to branch out and learn & offer more as she learns the craft.
A personal quote from Kristin:
"I started making glass tile pendants first as holiday gifts. My relatives gave me tons of kudos and I enjoyed the creativity process. Combine that with a bit of a broken heart and I decided to focus my free time on making first glass pendants using prints and 3D Crystal Laquer. Wanted to improve the quality of my products and further explore my creativity. I began hand painting tiles and using resin. At first, I felt like a mad scientist mixing chemicals and what not! However, now I'm getting more comfortable and excited about the possibility of using resin for new projects. I'm hoping to expand my line beyond pendants in the future."
I was honored when she wanted me to put do a review and giveaway for her to help get the word out on her new business – Smitten by Kristin.
I picked out the owls, but couldn't figure out which one I liked more and wanted to keep myself and the other to do a giveaway on. Kristin decided to send me out both the pink & purple owl and then I could decide which I wanted once I got them. haha – yah still was unsure cause I thought they were both adorable and wanted them both. Then I had my husband pick out which one I wanted, and he picked the purple for me to keep. So it was the purple I kept for myself, easier to have someone else choose sometimes.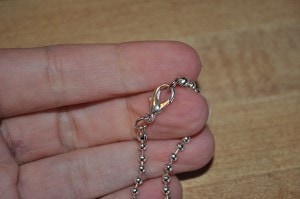 One of the first things I noticed & loved was how easy the clasp on the necklace was to hook myself. I love necklaces, but don't wear them as often as I would like because I always need my husband to clasp them for me cause they are so small and I can never find the hole. This was super easy and I clipped it right on while sitting on the couch. The necklace hits right where I'd like it to & its just super cute and well made. Imagine what else Kristin could have in store since her first creations are so amazing?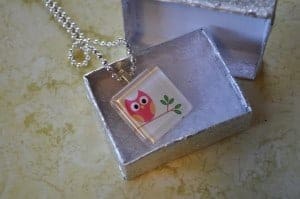 Above you see the cute pink owl, just sitting the box waiting on you to win him! Enter below via the Rafflecopter. USA only please, since I am the one shipping it. The winner will have 48 hours from the time I email them to reply before I pick a new winner.
I was given these products free from Smitten by Kristin to provide my honest opinion. All thoughts & pictures are my own.