I am being paid to provide you with the following information & the link included helps pay me as well. However, as always, all thoughts are my own, and I was in no way swayed by being paid to provide this information.
Below you'll find a snippet from Splashscore itself:
"You're already on Facebook, why not get rewarded for it? In Splashscore you earn points for getting Likes and Comments on your everyday Facebook posts from your friends. Then with those points you can get exclusive rewards from your favorite brands – like gift cards, VIP experiences, discounts and even free products! Join today and see how big is your Splash, then earn awesome Rewards!"
Personally, I love Splashscore and have used it for awhile now. My score goes up and down because others don't interact with me as much as they should. 😉 Still I enter lots of drawings with the chance to win gift cards and get codes. I have earned Amazon mp3 cash quite often, which is a $1 and can be used anywhere on amazon. I also won a random drawing from splashscores actual facebook page.
Its easy to play along because you don't have to do anything different then what you already do on facebook. You'll get emails letting you know when new rewards are added, so you aren't left in the dark. Plus check their facebook page from time to time for special type of drawings, like caption this photo and a random winner will be drawn.
Lots of chances to win goodies from Splashscore so why not join me along with the fun!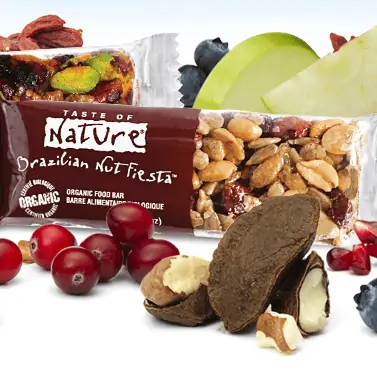 Right now they are giving out a Taste of Nature bar, free!
Taste of Nature:
"Taste of Nature makes healthy snacking delicious, by using the very best ingredients the world has to offer in their fruit and nut bars. These snack bars are also 100% certified organic, Non-GMO certified, Gluten Free, and have a natural ingredients list. Choose from 13 different delicious flavors with international inspiration, like the Brazilian Nut or the Quebec Cranberry Carnival each made full of natural sweeteners to satisfy your taste."
Get your FREE Taste of Nature snack bar today in Splashscore!
http://splashscore.9nl.com/tonsplashreward1
Just click the link above, and you are golden to grab your free bar & start playing along with Splashscore for the chances at some great prizes, discounts, and free products.