I received Swagbucks for posting about this promotion.  If you join Swagbucks with any of the links provided below, you'll become my referral and I'll earn when you earn.
If you are anything like we are and enjoy using coupons to save at the store.  Look no further than using Swagbucks to download some coupons and earn some points just by doing that too.  Read all about it below and join today so you can get in on the savings as quickly as possible.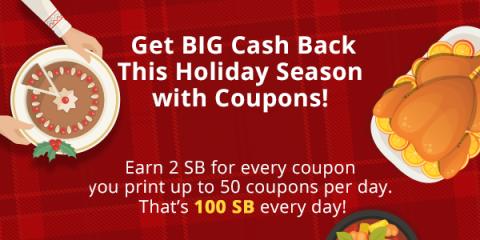 Swagbucks Coupon Promotion
We're all looking for ways to save big at the register. Well, I've found a way to make every coupon I use at my local grocery store worth an extra 25¢!
How do you ask? It's as easy as 1, 2, 3!
1) Sign up at Swagbucks.com
2) Head over to the Grocery Coupons page and start clipping coupons for your upcoming shopping trip
3) Use the coupons the next time you shop at your local grocery store. You'll earn 25 points (25¢) for every coupon you use.
That's it!
But, that's not all… Today through Monday, December 12th, you can earn 2 points (2¢) for every coupon you print, up to 50 prints per day. That's an extra dollar every day just for printing coupons that will save you a ton on your next grocery store haul!