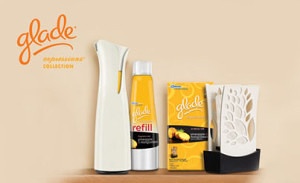 I was stalking my BzzAgent when I saw that they were running a campaign for the Glade Expression Collection. I had already tried the Fragrance mist from something else I did and knew I loved it. In fact, I already had the Cotton & Italian Mandarin Fragrance mist, so was super excited to try a new scent. The Cotton & Italian Mandarin, is just different and not a usual scent you see in these types of things. I loved it.
The Glade Expression Collection comes in four different scents to fit any mood you are having:
Cotton & Italian Mandarin
Fuji Apple & Cardamon Spice
Lavender & Juniper Berry
Pineapple & Mangosteen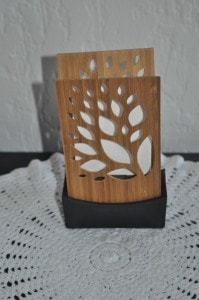 I love their scents, they are so different then your average scents you see for this kind of things. And they smell heavenly. With my free coupon from BzzAgent I got the Pineapple & Mangosteen in the Fragrance mist & in the oil diffuser. Such a welcoming soft scent. I have to say though in the oil diffuser the scent was a bit overpowering at first, but that went away after the first day and we were left with a nice soft scent. I put it by the front door so that when people enter they are welcomed by the scent.
Glade Expressions® Fragrance Mist
The first refillable fragrance mist from Glade®
Squeeze-to-release a soft, light mist of true-to-life fragrance that lasts
Instantly enhances any room and eliminates odor
Refillable with your favorite Glade Expressions® fragrance — so true-to-life, it's as if the ingredients are being cut open right next to you
With a removable label, the holder is artfully designed and chic enough to incorporate into any décor
Fragrance satisfaction guaranteed or your money back*
Glade Expressions® Oil Diffuser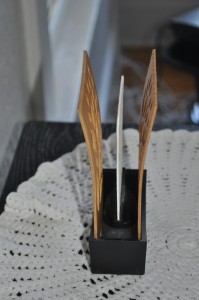 Side view of the Oil Diffuser
The best non-electric oil diffuser for living spaces, delivering 3x more fragrance**
Refillable with your favorite Glade Expressions® scent — authentic, exotic ingredients like mangosteen and cardamom spice are unlike anything else in the fragrance aisle
Trendy holder (available in bamboo or white) matches home décor perfectly, allowing you to place true-to-life fragrance in any room
The intuitive snap-in-place setup makes the diffuser easy to assemble, refill and enjoy
The spill-free design fills living spaces with fragrance for 30 days
A wide and thin wick releases fragrance slowly, leaving you with consistent fragrance over time
Fragrance satisfaction guaranteed or your money back*
I love that you can just squeeze the bottle on the mist and out it comes, no weird buttons to push at top, just hold and squeeze. Super simple.
I have some coupons if anyone would like them, just holler. Though I know this Bzz Campiagan was open to lots of people, the most I have ever seen in recent memory. My coupons are for $2 off any Glade Expressions Fragrance Mist Starter Kit & the other is $4 off any Glade Expressions Oil Diffuser starter kit. Great deals! So just holler with your email address and I'll get in contact with you for your mailing address to pop both or one out to you, just let me know 🙂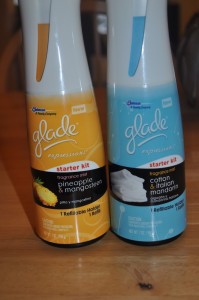 I was sent this campaign from BzzAgent, free to bzz about – all thoughts & pictures my own – minus the ones with the little symbols in front of them, which I copied and pasted from BzzAgent itself.