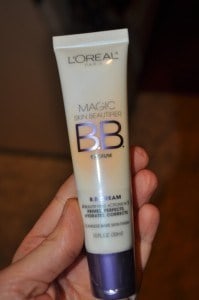 As most of you know by now, I am a beauty junkie. I love all things makeup, skincare, perfume, hair care and anything and everything in between. I love getting the inside edge on new products or even just products that hasn't gotten much word out yet.
Which is why I was excited when I got into the campaign from SheSpeaks for the new L'Oreal Paris B.B. Cream.
There was two things I noticed first as I was applying the B.B. Cream for the very first time. 1 – I felt these little ruff bead things, which felt to me a lot like exfoliating beads (I'll explain in a bit what they were). 2. — I thought "Oh no, this is going to be too light for my skin tone!".
Thankfully as I rubbed the cream into my skin, it blended right in and I was amazed on how flawless my skin actually looked. With past B.B. creams I have tried, I found that it didn't give me the full coverage I feel I need. With this, everything blended and I was left with a soft flawless looking skin. I was in awe, never have experienced that before with a B.B. cream. Never once did I think oh geeezz I need some foundation on if I am going anywhere. I went out twice with just the B.B. cream on. For me, that was an amazing feat! Shows this stuff works and works well. Super happy with it!
L'Oreal Paris B.B Cream has four beautifying actions all in this one simple product.
Primes – to smooth out your skin's texture.
Perfects – to hide those imperfections (which I have a lot)
Hydrates – moisturizers your skin to give you that all day moisture you need
Corrects – gives you that healthy looking even complexion.
Those things I thought felt like exfoliating beads? They were Beautifying Beads: encapsulated pigments infused in an ultra-light lotion with antioxidant Vitamin E. Amazing feeling as are you applying it, makes it fun to put it on, at least for me.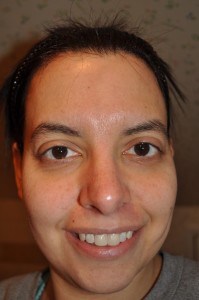 Clean Face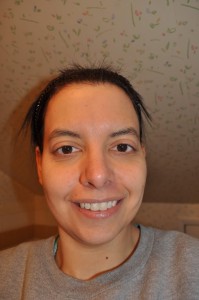 After adding the B.B. Cream on my Face
L'Oreal Paris B.B. Cream can be found in four different shades (I received Medium 814, works perfectly) and retails for $10.95 for 1 fl. oz. You can find this product at mass food & drug retailers nationwide. Go out and grab one and come back and let me know what you thought. I bet you'll be happy with it. I know I am and plan on buying more.
I received this product free from She Speaks & L'Oreal Paris to review. All thoughts and photos are my own though and I only give my honest opinion.