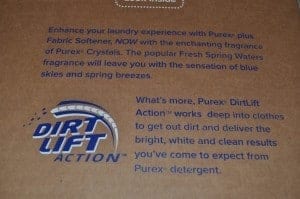 Purex sent me out this amazing laundry detergent, Purex with Crystals Fragrance plus Dirt Life Action, free to try out and review while giving you all a chance to win some free coupons too so you could try it as well. I have to admit that I am totally slacking again on getting this up in a timely manner. I have had it sitting here waiting for my review, and I had already used half of the bottle and yet still I didn't sit down and do my quick review. Its been a weird last month with next month going to be super busy for me, so please bare with me these next couple months.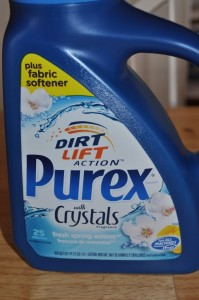 With all that being said, I have to say that I am loving this detergent. It has an amazing smell that isn't overpowering while using it and doesn't leave your clothes just reeking in scent either. It's a good balance of a welcoming scent while not being the first thing you smell when you take out your clothes. It has a built in fabric softener as well, so your clothes are super soft after each wash. Purex with Crystal Fragrance also has a built in dirt lifter, helps remove stains easily. I have loved using this product and has left me happy with the outcome of my clothes after getting washed. It's an affordable product that can save you & your family $45 a year on average. How can you beat that while it cleans as well as it does and leaves such a nice scent.
You can find the new Purex plus Fabric Softener with Crystals Fragrance in the liquid detergent aisle at your local Walmart, Target, Kroger, and other Purex retailers.
Want to try it out yourself? Then I have a coupon for you. Enter below in the rafflecopter to win a coupon for a free Purex with Crystals of your very own. USA only please and winners will have 48 hours to get back to me after I email them saying they won or I will be forced to pick a new winner.
Don't forget, this special link can win you $1,000 with a year of Purex or 500 second place winners of a coupon for a free Purex! http://insiders.purex.com/experience-enchantment/?id=44354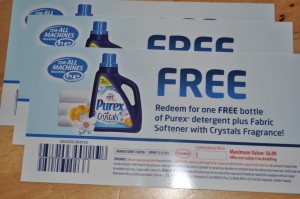 The Purex brand provided me with a sample of Purex detergent plus Fabric Softener with Crystals Fragrance in exchange for a product review. However, all opinions & photos are all my own honest thoughts and views. a Rafflecopter giveaway