Purex sent me one of their new liquid laundry detergents to review for free, which I was more then happy to test and give my opinion on and as always offer free coupons to do as a giveaway.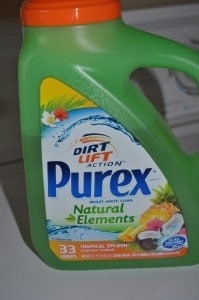 The laundry soap I was sent this time was the Purex Natural Elements in Tropical Splash with Dirt Lift Action. This liquid laundry detergent is pretty amazing. It's a hypoallergenic, dye-free formula, made especially for sensitive skin. While having an exotic smell – pineapple & coconut combine with distant flowers – reminds me of summer time. I think this would be an amazing detergent to use especially during the Spring and Summer, its such a fitting time for it. I enjoyed the smell, and it helped make laundry time a lot more pleasant of time.
Purex Natural Elements Tropical Splash detergent is optimized to perform in high efficiency or traditional washing machines & costs half the price of the leading brand. I was pleasantly surprised on how well it cleaned my laundry and left it with this light airy smell not overpowering or like what is that smell, but a welcome happy light touch. The Dirt Lift Action seems to do it's job as well, it seemed to get out my stains a bit better then my average cleaner.
You can find out where you can get your hands on this new natural detergent by visiting here. It comes in 50oz, 75oz and 100oz sizes. You can easily find one to fit your needs.
Overall I am super happy with the new Purex. I do believe that I'll be getting myself a bottle in the near future to give me & my clothes some happy scent.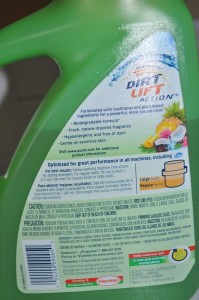 Below you'll find the rafflecopter, where you can win one of three coupons for a free bottle of the new Purex Natural Elements. USA only please & winners will have 48 hours after I email them to get back to me or I will have to pick a new winner.
Purex sent me a sample of Purex Natural Elements Tropical Splash to try and review for free for in exchange for a product review. However, all opinions & pictures are my own.