With Crowdtap, you can get so many great things and among those things is sample & share. What is a sample & share you ask? Why you get a free item and then get either one to share with a friend or several to share with multiple people, depending on what it is for. How exciting and great is that? You turn around and report back to Crowdtap on how yours went and get your credit and presto you have more rank to get more. Sound good to you? Then join here.
Now on to my most recent sample & share. I was picked to do an Old Navy Sample & Share from Crowdtap. I was able to get two free shirts and got another coupon with it to give to a friend to get herself two free shirts. Score!!
I was excited because my sister/best friend was coming into town for a visit during the coupon time frame and I was able to actually share it with her and shop with someone for a sample & share. Normally I end up sending it to someone to use and just get them to get me pictures and how their experience was. Was exciting to me to actually shop with someone and be there on their experience.
We went into the Old Navy in my nearby mall and saw the shirts right away. They were in the front row of the ladies section. It didn't take us long to find our shirts. They had so many wonderful choices in both the vintage and the perfect. We both ended up with one of each actually. I would have picked out more, but was good this time & only bought the two with my coupon and went on my happy way. We didn't have to try them on because they were shirts and we knew how they would fit already.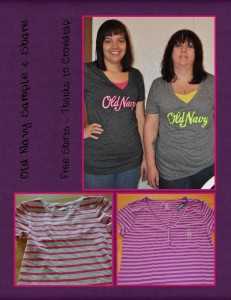 The ladies that checked us out were great and easy to deal with as well, made it a nice way to end our experience. While our coupon didn't scan right, they were able to just type it in and presto free shirts. The girl that was checking out Kris said WOW after she saw that she got both shirts free. I love hearing/seeing what the clerks say when they see its free. Makes my day.
A wonderful time was had by both of us. We are both super happy with our shirts as well, though my vintage dark gray that says Old Navy is a bit bigger then it normally is, but I just added a tank top under it, and it made it perfect and just added to my shirt, so it works out well.
Wanna join now? Just click on over here & do it already!
I was given the free shirts from Old Navy from Crowdtap. However all thoughts and photos are my own and in no way were swayed by getting the product for free.