I received this book free to host a party with from Crowdtap. I wasn't paid in any other form but to receive this book and a digital kit for the book to movie.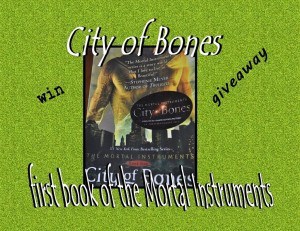 Since I knew more people online that were readers and might enjoy the
City of Bones
as much as I have, I decided a fun way to host my party would be an online event on facebook. Sadly though, I didn't get the response I was hoping for most ignored the invite and the couple that joined just didn't pay attention to the actual events I tried to play, so with the lack of hype there I decided that I'd just host a giveaway on my blog to get the word out. Then the couple that joined my event could more easily play along by entering this way to win the book.
I read the City of Bones, the first book of the Mortal Instruments, by Cassandra Clare quite a long time ago. I was pulled in from the very beginning by Clary Fray that is just your average teenager out with her best friend when she noticed these people attacking someone, and she screams at her best friend to point out what is happening, and her best friend can't see a thing. She panics and learns much later why she could see things that others couldn't, she was part Shadowhunter.
Read as Clary learns more about her secret life and the people she meets along the way. Read in awe as even Simon, her best friend, life changes too. Clary meets Jace and Jace becomes a huge part of what she learns and becomes.
It's a great read, the whole series is.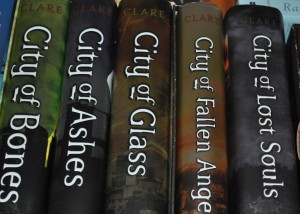 The movie, City of Bones, comes out August 21st – I am so thrilled and looks really good, which sometimes books to movies just lose that appeal because they drop out some of the most important things, but I have high hopes for this one.
Now enter below via the Raffelcopter to win the book, you are going to love it I just know it! USA only please, since I am the one shipping it. Winner will have 48 hours to get back to me when I contact them via email as the winner or I will be forced to pick a new winner.