I received this product free to review from OrganizHer. However, all thoughts & photos are my own, and I only recommend products that I actually enjoy and like to my readers.

I am a list maker. I love making lists, no matter how silly or useful, I love crossing things off that list and feeling a sense of accomplishment. Pointing at it and grinning cause I did it and its off my list. However, for whatever reason I am horrible about meal planning & making an actual list while grocery shopping. Which you'd think with my love of making out lists would be something I'd do each and every single time I went to the grocery store. Its rare I make a list for groceries. I just wing it and try and remember what I needed or wanted. Every couple weeks we go grocery shopping, I love stocking up and not having to go or think about it until next time.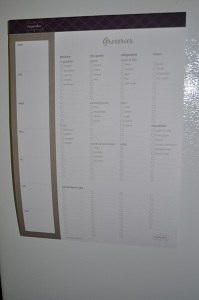 I was pleased to be getting the menu planner & grocery list from OrganizHer. There are three different types of menu planning area things that OrganizHer offers: shopping list (which is what I received), shopping companion & calorie tracker. There are also other areas of organizing that OrganizHer offers – scheduling, organization and expense tracking. Take a peek and find out for yourself.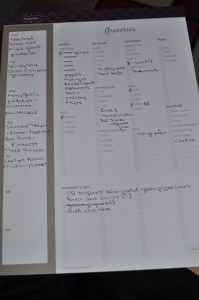 Now as I said I received the shopping list, which is a shopping list with some pre-typed items on it with a menu planner on the side of the paper for Monday through Sunday. I love that its all lined out for you to write your lists on. However, I find some of my items were longer then the length of the line, so it ran over into the other line, which kind of annoyed me. Still its such a handy little thing that hangs from heavy duty magnets so you can put it on your fridge. My husband wondered when he felt how heavy the pad was if it would even stay up on the fridge. To our happy amazement, it did indeed!
I am loving using this pad though and know you will too. Know what that means? Means I have to give away to you all! How exciting! Just fill out the rafflecopter below. USA only please & the winner will have 48 hours from the time I email them as the winner to get back to me or I'll be forced to choose a new winner.