The information and prize pack have been provided by General Mills through MyBlogSpark. However, all opinions are still my own as well as the pictures included.

I was lucky enough to be able to review the new Old El Paso Frozen Entree's, perfect for two people. Included in my cute pack was a chip and dip platter, a $10 Visa Gift Card, and a coupon to try the new Old El Paso Frozen Entree's free. There was suppose to be a serving platter in my kit as well, but I didn't receive that for some reason.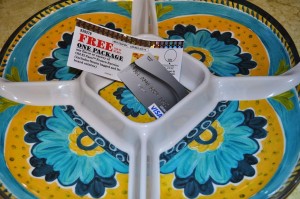 I was so excited to go to the store & pick out which product I wanted to try. I did have a slight fear of my regular store not yet carrying them yet, but happily they were all there waiting for us to pick out one. The choices were: burritos in chicken or shredded beef, quesadillas in chicken or beef, enchiladas in chicken or beef, and fajitas in chicken or beef. It didn't take me long to decide that we MUST try the Chicken Enchiladas.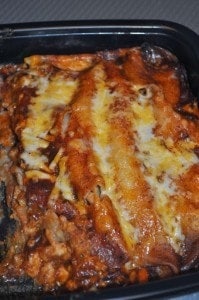 Last night we decided we were going to try them for dinner, with a salad that I picked up earlier that day to go with it. We read that to cut cooking time, cook a bit in the microwave first and then pop in the oven. We prefer cooking the oven when we can since it gives a better overall taste in our opinion and tends to cook up better.
We plated up our food and boy did it smell good! Took our first bite and we were sold. Super yummy! I was completely impressed. Normally we aren't the hugest fan of frozen dishes because they either are bland or just don't taste right. But this was amazing, so good!! It was the perfect size for my husband and I. The ONLY thing I'd change if I could with this product is the amount of sodium in it. With my husband's high blood pressure we have to watch how much sodium and 47% is just way to much for an average meal for us.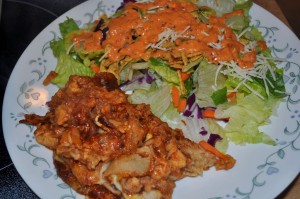 Check out the Old El Paso website & follow them on facebook to keep update on their amazing products!
Lucky for you all that I can give away the exact same pack I got to one lucky reader! Hopefully you'll get the serving platter in yours though!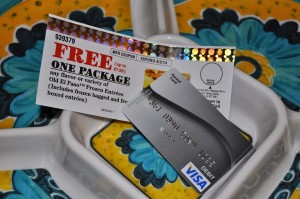 Enter below in the rafflecopter, must be in the USA. I am no way responsible for the shipping of the product brand is shipping the product to the winner. Winner will have 48 hours from the time I contact them as the winner to get back to me or I will be forced to pick a new winner. Good luck!! *please note, it might take a tiny bit for the rafflecopter to load so please be patient*