I received these free from Vocalpoint & Clairol to give my full review on and host a giveaway for others to try it out. However, all thoughts and photos are my own, and I only recommend things I truly like.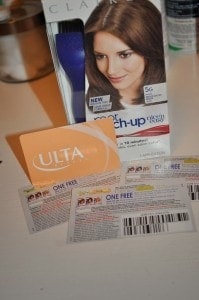 I have the biggest problem with gray hairs popping up in between needing a full hair dye & freaking out that I don't want all these grays to be showing. I sometimes use an old mascara to cover up my grays in between washes, it works but isn't ideal. I have dealt with gray hairs for far longer then I should with only being 34. It just keeps getting worse and driving me a bit more nuts with it.
Which is why I was more then happy to test out the Clairol Nice & Easy Root Touch-Up kit. It seemed to take forever to get my kit to me, and I was desperate need of it. In fact I almost gave up waiting on it and set up my hair appointment. I am glad I didn't and waited a bit more.
Not only in my kit were the coupon for my free Root Touch-Up, but also 3 additional coupons for free boxes to give up (giveaway at the end) and an Ulta gift card! How great!
I went out to get my Clairol Nice & Easy Root Touch-Up right away since I was in such desperate need. I wasn't sure if I had picked the exact right color cause I couldn't remember what color I did last, but I ended up picking the right one, and it blended wonderfully!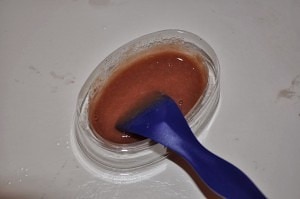 dish to use to paint your hair
It was easy to mix up the color and activator in the little dish they provided and paint the color onto my hair. Easy peasy applying. I waited 15 minutes to rinse out instead of the 10 because my gray hairs tend to be a little bit more hardy it seems then your average grays.
I love the results though, my grays are all blended away for the most part, I have noticed a few little bits that I missed or the color didn't get, but really am happy with the results when its only 5.99 a box and gives you 3 weeks of in between color saving!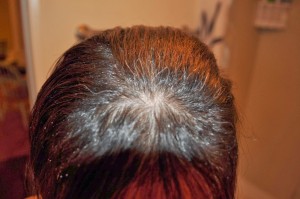 Before – Trying to Catch the Gray's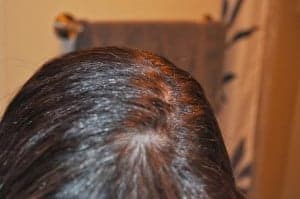 After – No more patches of Gray!
Now do you want your chance to try it? Just enter the rafflecopter below (please be patient it might take a few to load). USA only and winner(s) will have 48 hours to get back to me with their mailing address or I will be forced to pick a new winner.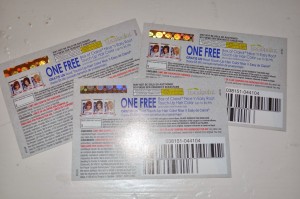 You could win of these coupons!!