I received these products free from BzzAgent & Kroger to give my full & honest opinion on. All thoughts are completely my own though, and I only recommend products I truly like.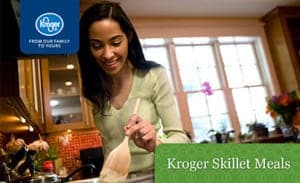 Dinner time, AGAIN? What? Didn't we just do that last night? It seems to be the running theme sometimes in our house, and there is only two of us. I can imagine it happens quite a bit in your house too. How did it get to be dinner time already? What am I going to make?
You now have a new option that is easy and super yummy! Kroger has a new line of dinner skillets out that are wholesome and great tasting at the same time and only takes 10 minutes to cook. How awesome is that!? The line includes – Tuscan-Style Penne, Sausage Rigatoni, Penne with Grilled Chicken, Shrimp Lo Mein and Chicken Fajitas. Each bag contains 2-3 servings so its simple to create a meal just for yourself or for your whole family!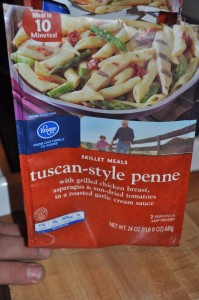 We ended up picking up the Tuscan-Style Penne. When it was cooking, it smelled so good and tasty already. I was super impressed when we sat down to eat it, and it tasted as good as it smelled. The flavor was amazingly great, sadly the only thing I didn't like about this new skillet meal was the high level of sodium in it. Being we have to cut down our sodium to get my husbands high blood pressure down, 42% is just to high for a single meal for us. Sadly, just because of that, we won't be buying this very often but it was super tasty!!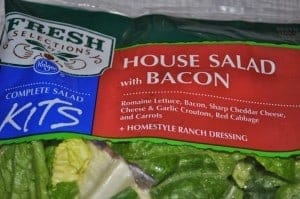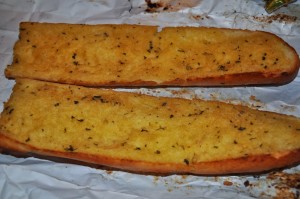 We added in a Fresh Selection Salad Kit – House Salad with Bacon (also available in Ceasar & Caesar Lite) and a Kroger Garlic Bread, and we had a whole meal within minutes. Our tummies were pleased as were our time banks.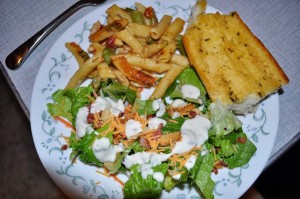 What new Kroger Skillet Meals would you be most excited to try out?