I received these samples free from CVskinlabs & BrandBacker to give my full and honest opinion on and get the word out about CVskinlabs. However, as always, all thoughts and opinions along with photos are completely my own.

During the winter your skin usually begs for extra moisture, but if you have sensitive skin that might be a battle in itself to find something that will combat your dryness yet be gentle on your skin.
Your answer may be CVskinlabs. Made especially for sensitive skin it has a wide variety of products to suit your needs. All natural, organic and luxuriously soothing skin care line that repairs sensitive skin while restoring a youthful radiance.
Natural and Organic
Clinically Proven
Hypoallergenic
Screened by Toxicologist
Doctor Recommended
Not Tested on Animals
Made right here in the USA
I received three sample sized products from CVskinlabs. The
Body Repair Lotion
,
Calming Moisture
, and the
Restorative Skin Balm
all in this cute little tie mesh bag. I have been able to use the first two, but have yet to find something to use the Restorative Skin Balm on – we may use it on my husbands hands that are cracked from hard work.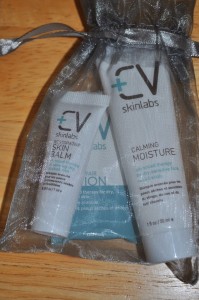 Body Repair Lotion – $36 for 60oz
Fast-Absorbing while deeply hydrating your skin it replenishes and soothes dry, inflamed skin while immediately restoring radiance. I can tell you that when I put it on, it soaked in right away leaving no stinky residue or even an oil glaze, it was normal feeling skin right away, and I loved that. I hate when you can feel lotions on for hours after you put it on. Its made for all skin types, but it ideal for dermatitis, eczema, radiation burns and for soothing irritation form post laser hair removal, waxing and shaving.
Made with Beta Glucan + St. John's Wort that possess super moisturizing collagen-boosting and wound-healing properties. Also with Calendula + Aloe that has a great calming, soothing and anti-inflammatory duo.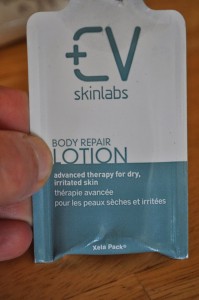 Calming Moisture – $49 for 2oz
Made especially for the sensitive face, neck and scalp areas. It immediately calms, hydrates and nourish chronically dry and flushed skin while returning radiance. Designed for all sensitive skin types but ideal for soothing irritated skin from the effects of microdermabrasion, laser treatments, retinol use, chemical peels, excess sun exposure or chemotherapy. Skin is left soft, moist and glowing. I loved this stuff, it settled into my face quickly. Leaving no oil behind and yet my skin felt completely soft and ready for the day. I don't really have sensitive skin but would use this daily if I could.
Made with Beta Glucan the soluble fiber found in the cell walls of oat kernels; helps promote collagen production, speed wound healing and diminish signs of fine lines and wrinkles. Has Aloe Vera in it to soothe, calm and moisturize. Also made with Oat Extract that reduces redness and itch.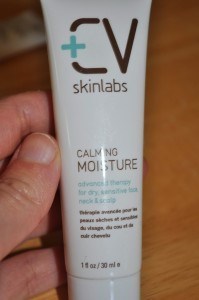 Restorative Skin Balm – $26 for 5oz
Advanced therapy for severely dry, cracked skin. This petrolatum-free, nourishing salve moisturizes and helps protect from environmental aggressors. Instantly softens severely dry, rough and chapped skin including lips, cuticles, eczema, cuts, scrapes, IV areas, abrasions, chaffing, new scars and any other areas needing TLC. I didn't get a chance to use this yet, but like I said I think we might try it a few times on my husbands hands. Also, I might try a bit on my cuticles and see what it does there. It sounds pretty great though and handy to have around for several needs.
Made with calendula, sea buckthorn oil & arnica which is a powerful trio of plant-based antioxidants, fat-soluble vitamins and sesquiterpene lactones (naturally occurring plant terpenoids), all of which are known for their healing, immune boosting, antiseptic and skin-regenerating properties. Carnuba + Bee's Wax to safeguard the moisture barrier. Vitamin E powerful, proven antioxidant; aids in wound healing.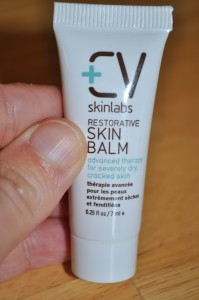 I highly recommend CVskinlabs and think if you buy something, anything, from them you will be pleased. In fact for me a few are going on my personal wish list!