Disclaimer: The following post is part of a campaign or review. I may or may not have been given an item and/or have been financially compensated for the following post. As always though all thoughts are 100% my own, as are most of the pictures included.

I have a deep love for Bath & Body Works. I value their products and think they are one of the best out there. With their huge line of products to fit all sorts of needs, everyone can find something for them at Bath & Body Works I believe.

I was pretty excited to be chosen as a Bath & Body Works insider and these hand soaps are the first thing I have been able to try since being accepted.

I received three full-size bottles of the new Bath & Body Works foaming hand soaps in strawberry, sweet tangerines, and lemon mint which are all part of the fresh-picked series of foaming hand soaps. The lemon mint leaf went right to my best friend Debbie, she loves all things lemon, so I knew she was getting it as soon as I opened the box. The strawberry went in the kitchen right away and I have yet to open the sweet tangerines.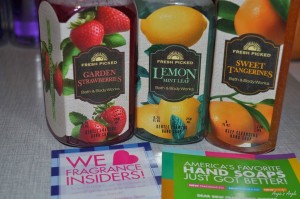 The strawberry is amazing. It smells like a fresh-picked strawberry completely. The soap rinses off with ease. I am completely amazed at how soft my hands were having using it as well. It was like I place lotion on my hands after drying my hands. Hands down the best soap I have ever run across as of yet.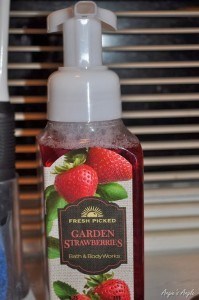 With over 25 fragrances to choose from in the new hand soap collection, you are sure to find several to fit the smells you enjoy. These new soaps are now filled with aloe & vitamin E.

So happy to be trying this soap and am so pleased with the results.

What scent would you like to try from the new Bath & Body Works hand soap line? Which rooms in your home would you place these new soaps?