Disclaimer: The following post is part of a campaign, review or sponsored post. I was given the product and/or have been financially compensated for the following post. Post may also contain affiliate links. As always though all thoughts are 100% my own, as are most of the pictures included.
As I have said time and time again, I may have a body wash hoarding issue. I have gotten better about it, but allow me to test out a new body wash and I am all over it without a second thought. I was pretty thrilled to get picked by Crowdtap to test out the new body wash from Herbal Essences. I have used Herbal Essences hair products for years, so was pretty sure that I was going to be liking the new body wash line they have added in.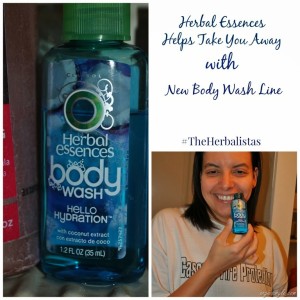 I received the Hello Hydration in the new Herbal Essences line, a yummy coconut smell to go along with it. I loved this body wash, it made me happy while I showered the smell of coconuts and thoughts of tropical vacations running in my head. There are other scents to choose from if Hello Hydration is not your cup of tea.
Body Burst – with the scent of citrus to get ya going in the mornings or when you need a boost
Happy Go Lather – floral scent of roses, to give you happy thoughts while you shower
Honey, I Smell Good – Soothing scent of honey & apricots to calm your senses after a stressful day
Totally Twisted – juicy scent that leaves your senses awakened and ready to tempt others
Something to fit all your senses and needs I think. My favorite name? Honey, I Smell Good. What is your favorite scent or name?

This body wash had a good amount of bubbles to wash away the dirt of the day ad leave you feeling fresh and ready for another. I left the shower feeling relaxed and happy.

What are you waiting for? Go out and get yourself a new bottle of the Herbal Essences Body Wash line. What one will you be grabbing?

Thanks to Crowdtap, I received a sample of the new Herbal Essences body wash line. However as always all thoughts are completely my own.