Disclaimer: The following post is part of a campaign, review or sponsored post. I was given the product and/or have been financially compensated for the following post. Post may also contain affiliate links. As always though all thoughts are 100% my own, as are most of the pictures included.
I have and probably always will use dryer sheets in my dryer. One I like how it smells and two its how I clean the dryer vent after each load. I think those dryer bars are impressive and neat, but I couldn't clean my dryer vent with them. I think the homemade ones are fantastic ideas, but again it wouldn't allow me to very easily clean my dryer vent like I do now.

Plus there are so many other uses for dryer sheets.
Use in your laundry closet to keep your linens fresh smelling and I have been told keep bugs away.

Wipe your floorboards down with them and less dust will settle on them.

Wipe your faucet handles down with them to make them shine.
Those are only a handful of the million uses that could be used for dryer sheets.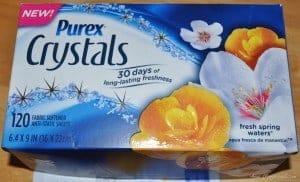 Purex has came out with a new line that is a play off their Crystals that you put in your wash. Purex Crystal Dryer Sheets come in two scents Fresh Spring Waters and Lavender Blossom.
They leave you with 30 days of long-lasting freshness

Reduces Static Cling

Repels pet hair and lint
My Thoughts on Purex Fabric Softener Dryer Sheets
I have enjoyed using these fabric softener sheets, however when I first received the box I was a little fearful that the scent of it was going to be just too strong for me personally. I am happy to say that hasn't been the case, while the whole box smell is kind of overpowering each sheet is not. It has just about the right of scent for each sheet and leaves my laundry static free and smelling amazing.



Giveaway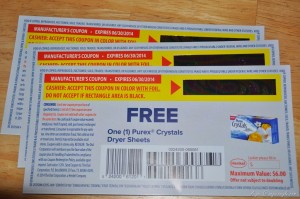 Now you can win one of three coupons for the new Purex Crystals Dryer Sheets. Must be 18+ and living in the USA. Winners will have 48 hours from the time I email them as winner to email me back or I will be forced to pick a new winner. Enter below in the Giveaway Tools form.