Disclaimer: The following post is part of a campaign, review or sponsored post. I was given the product and/or have been financially compensated for the following post. Post may also contain affiliate links. As always though all thoughts are 100% my own, as are most of the pictures included.
I love Bath & Body Works. I am addicted to their Body Mists more then anything though. I want one of every single scent they have and then some!! I love that they are always coming up with so many new different scents. Their lotion is long-lasting and absorbs quickly.



Luckily I was accepted as a #BBWInsider at the beginning of the year and my pocket book has thanked them for that. I no longer have to deal out money to experience their new scents and products. And all I am asked to do for receiving the products for free is to tell people about them. How easy! I would do that anyway.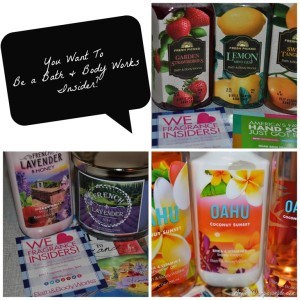 I have been lucky enough to get all, but one of the samplings they were offering to review and am thrilled with the variety. Check out Foaming Hand Soaps, Inspired by the Tropics Collection, and Taking you to the French Countryside.

I have had many of you ask how I become a Bath & Body Works Insider and now I can openly tell you just how I applied.

First, I wouldn't have found out about this program had Rose from Immutable Ramblings not been accepted and then directed me on how to sign up as well.
Now there is a simple form for you to follow and wait and see if you are accepted. It couldn't be any easier.

Fill out this form and just wait to hear – hopefully you'll be accepted as well and will be on your way to experiencing the amazing Bath & Body Works products!