Disclaimer: The following post is part of a campaign, review or sponsored post. I was given the product and/or have been financially compensated for the following post. Post may also contain affiliate links. As always though all thoughts are 100% my own, as are most of the pictures included.
I have loved so much being a Bath & Body Works Insider. Loved it!!

This time I am going to be telling you about the amazing Endless Weekend Trio that I received back in May.
I first off I have to say that I LOVED this scent, it just made me happy. Which scents tend to do quite often. I love that a scent can alter your mood and just make you feel good.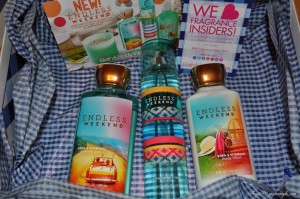 A mix of three different type of scents; raspberry lychee sorbet , sun-kissed magnolia and vanilla sandalwood make this the perfect summer time scent to make you happy all through those extra long weekends and vacations this summer.
So go out and grab some of that Endless Weekend and make yourself extra HAPPY!