After 7 plus years, Swagbucks has reached a major milestone today – $100 million in gift cards and cash paid out to its members! To celebrate, they're giving away tons of points (called SB) that you can use to get free gift cards or cash back!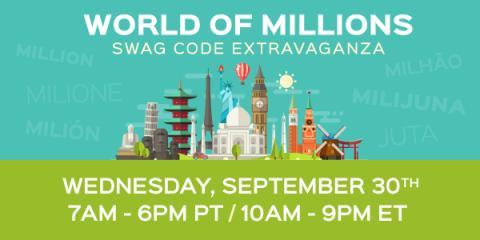 1. The World of Millions Swag Code Extravaganza
6 Swag Codes
7 am – Answers
9 am – nCrave
11 am – Watch
1 pm – Shop
3 pm – Search
5 pm – Instagram
2. Earn 100 SB Get 100 SB – For the 30th only, you can earn up to 400 bonus SB combined through the following activities
Discover = Earn 100 SB get a 100 SB Swag Up
nCrave = Earn 125 SB get a 100 SB Swag Up
Answer (Surveys Only) = Earn 150 SB get a 100 Swag Up
Watch Mobile = Earn 200 SB get a 100 Swag Up
Not a Swagbucks member yet? With back-to-school shopping completed and the holidays quickly approaching, a lot of you are probably thinking about your gift shopping list. Swagbucks is a fun rewards program that gives consumers free gift cards and cash and helps families pay for the holidays simply by doing what they are already doing online like shopping, searching the web, watching videos and sharing their opinions. Here's a video showing how fun and easy it can be…
There is no limit to how many points Swagbucks members can earn and they never expire. Points can be redeemed for cash via PayPal or for gift cards for hundreds of retailers like Amazon, Walmart, Target, Best Buy, Toys R Us, and more. Sign up today and if you earn 300 points, called SB today (that's equivalent to a $3 Amazon Gift Card), you'll get an additional 300 SB bonus on top of everything else! It's simple, it's free and it works. Click here to join today!