Thanks to She Speaks & Walmart for helping sponsor this post!
Summer can be such a nice relaxing time. There seem to be more flexible schedules and more free time. Time to enjoy each other and just yourself. That is until you head into the laundry room to do a load of laundry that is piling up because you are enjoying that free time and you realize you are completely out of laundry detergent.
I, truthfully, maybe even shamefully don't ever let this happen. I'm the queen of having extras on hand so I don't run out of them. I keep several products on hand that we use every day so that when that is empty I can right away replace it with a new one. I know, I am an odd duck in the millions that have to run to the store to get that empty toilet paper and/or laundry detergent at the local store.
Which is why you should take advantage of the Avoid the Oops that is going on at Walmart right now. You can stock up on many products we all use on a daily basis and maybe even more so during those summer months.
Stock Up For Summer To Avoid The Oops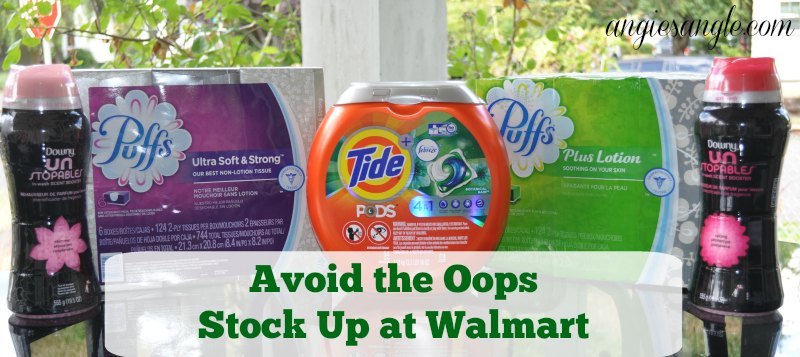 I stocked up on my favorite Downy Unstopables, a couple different types of Puff tissues and some Tide Pods Plus Febreze. While I use the Downy Unstopables along with the Puff tissues on a regular basis, I thought the Tide Pods Plus Febreze could really come in handy if we do any vacations where we rent a house. How much easier would it be to throw a few pods into a baggy and take along with you so you don't have to worry about cleaning those clothes while away?
Easily find what you might need or want to stock up now at Walmart with the Avoid the Oops. You'll find many different types of products, some might surprise you like it did me.
Trust me stocking up will make you feel so much better to throw those parties and just overall enjoy your summer more. Heck, you'll enjoy life more if you just stock up on some regular household essentials.
Now tell me, what will you be stocking up on yourself? Browse Avoid the Oops at Walmart and come back and let me know. While you are browsing think of your own oops moments and share them with me too! I can't wait to hear it!