I think it's safe to say that most you already know that I am more than willing to try any new skin care or makeup line out there. I just never know when I'll find the next thing that is going to do magic on my skin or even just really make me happy while using it. So why not keeping trying products. I understand that some of you have sensitive skin and can't try anything and everything like I can. Am thankful that I don't have any sensitive skin and can try most things to see what happens. I try my best to let you know if I think it might be sensitive to some skin types, though I won't always know since my skin isn't sensitive. Which is why I was more than willing to try the Artistry Hydra-V Skin Care Line for my friend Becca.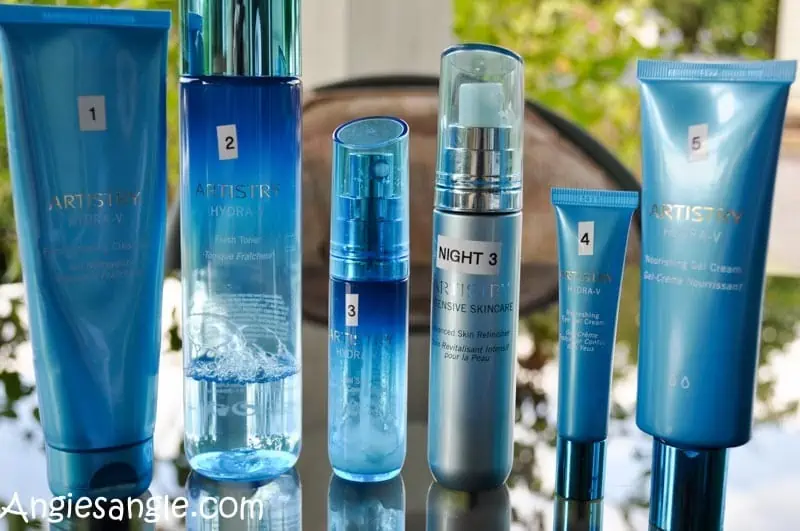 Hydrating Skin with Artistry Hydra-V Skin Care Line
Now this hydrating skin line is made by Artistry and is a 5 step system. It meant to be used so your skin can absorb better the moisture it needs. My face doesn't so much need any extra amount of moisture personally, but I still found this system to work well for my combination skin. The whole system has also been allergy and dermatologist tested. Which is good to be noted.
Do you think this line of hydrating skin with Artistry Hydra-V Skin Care Line could be for you? Make sure to visit the links and check out the whole line of products to see if you can find what might fit you better if this hydrating skin isn't for you! What would be your favorite product from this line?
Remember that when used as a whole system you can see and feel the difference quickly.
Up to 24-hour lasting hydration.
After 3 days, skin looks and feels healthier, more supple, smoother, and fresher looking.
After 28 days, a clinically measured significant improvement in skin texture.
What are you waiting for?