I earned Swagbucks for posting about this promotion and if you join under any of the links below you'll become my referral and I'll earn while you earn!
My husband and I love earning with Swagbucks. It's so easy and enjoyable. I think you'll find it just as easy and enjoyable if you join. If you need any help along the way, feel free to ask.
Today I am showing you all just a different way you can earn some extra Swagbucks just by doing what you are already do. This fun starts Monday, so join today so you can join in on the fun!
Midway Team Challenge with Swagbucks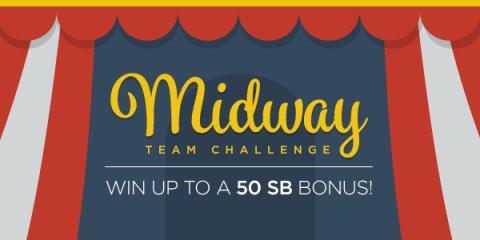 What's your favorite part about county fairs? Is it the rides, the food, the games? I love it all!
Starting Monday, September 12th, Swagbucks invites you to participate in their Midway Team Challenge. Pre-registration starts today! How will you contribute? Watching videos, completing surveys, shopping online? These activities and more will help your team get ahead. If you've never used Swagbucks before, it's a site where you can earn cash back on everyday tasks you do online. Now is a great time to join, especially if you participate in the Team Challenge because it's an opportunity to win an extra bonus for trying out the site.