I received Swagbucks for posting about this promotion. If you sign up for Swagbucks with any of the links below, you'll become my referral and I'll earn while you earn.
Home Decor Big Cashback on Swagbucks
Now that the holidays are in full gear, a lot of people are already getting started on decorating their homes for the season. If you're in that same boat, you can get great deals and cash back for shopping through Swagbucks! Just go here and see all of the great cash back you can get from some of your favorite stores. Here's how it works:
1. Click here to see the stores offering deals and cash back.
2. Click through to the store(s) of your choice and do some shopping!
3. Get cash back in the form of points (called SB) that you can redeem for free gift cards so you can stretch your holiday (and decorating) budget even further!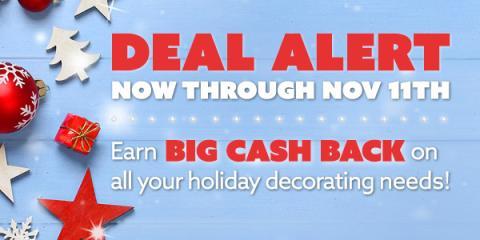 As an extra bonus, if you're not a Swagbucks member and join through my link (or you've joined through my link this month), you'll get a one-time 200 SB bonus when you spend $25 or more in any of the Swagbucks Shop stores before December 1st! Swagbucks is a great site where you earn SB points for doing everyday things online like shopping, discovering deals, taking surveys, watching videos, searching the web, and more. The SB you earn, the more gift cards you can get, which are a HUGE help this time of year.
Earn daily with ease. Just make sure to get your daily goal every day and everything else will just be the bonus. Like these type of shop and earns. Again my husband and I both use Swagbucks on a daily basis and earn at least $25 Amazon a month. Who couldn't use that? Join today, hurry!