I earned Swagbucks for posting about this promotion. If you join Swagbucks with any of the links provided below, you'll become my referral and I'll earn when you earn.
One of the easiest ways to earn Swagbucks is to use it as your regular search engine and you have the chance to win some Swagbucks just for searching. And sometimes there are extra goodies you can win with a search too. Read below for the current one.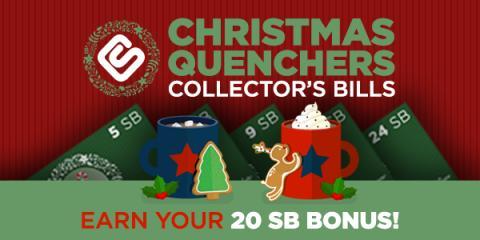 Christmas Quenchers Collector's Bills
One of my favorite things about using Swagbucks is that I can get rewards for searching the web through their search engine. Every now and then they have "Collector's Bills" worth SB points that you can collect by simply searching the web. Collect them all, and you get an SB Bonus! Once you've collected enough SB, you can redeem them for gift cards to stores like Walmart, Target, and many more!
Here's all the information for this week's Christmas Quenchers Collector's Bills:
Search the web through the Swagbucks search starting Monday, December 19th at 12:01am PT/3:01am ET through Saturday, December 24th at 11:59pm PT/Sunday, December 25th 2:59am ET, and when you get a search win, you may get a special Collector's Bill valued at either:
5 SB

7 SB

9 SB

15 SB

24 SB
When you get a Collector's Bill you'll receive the value of the bill and the bill will be added to your "Collector's Bills" ledger. Collect all 5 Collector's Bills and you'll instantly earn a 20 SB Bonus!