I received Swagbucks for posting about this promotion. If you join Swagbucks through any of the links provided below, you'll become my referral and I'll earn while you earn.
I promote Swagbucks and use it on a daily basis because it works. My husband and I earn at least $25 Amazon a month, if not more. It's a great way to earn some extra gift cards or money without leaving your house. If you are like us, it'll just become a daily part of what you do without much thought.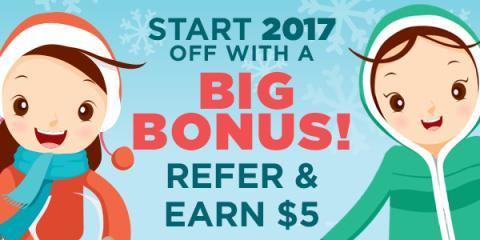 Join Swagbucks in January
Now that the holidays are over, a lot of us have gone into savings mode again as we rebuild our bank accounts from all that gift buying! Some of us have already started saving for the 2017 holidays! If you're looking to extend your budget or just say within it, Swagbucks is a great resource for that.
You've probably seen me write about Swagbucks a lot on here. It's a site where you earn points (called SB) for things you're probably doing online already, like searching, watching videos, discovering deals, and taking surveys. Then you take those points and exchange them for gift cards to places like Amazon, Starbucks, Walmart, Target, or PayPal cash.
Here's how you get your bonus:
2. Earn 300 SB total before 2/1/17. You'll get a $3 (300 SB) bonus for it!
3. If you spend at least $25 through Swagbucks Shop* you'll get another $2 (200 SB) bonus on top of the cash back you'll get from shopping. If you have some shopping to do online, just go to Swagbucks first and visit the store through them. It doesn't cost you anything extra, but you'll get SB points for every dollar you spend (on top of the bonus)!
That's it. It's super easy, and Swagbucks is for real.
*You must receive your shopping SB before March 1st
And as always, if you join Swagbucks and want to learn how to easily earn the goal each day. Please reach out to me and ask. I'd be more than happy to guide you along the best I can.