When going on vacation for more than a single night, we have found it's easier to rent a vacation rental. Being able to have a full house for our use and a full kitchen to cook our meals just makes sense. The cost averages about the same as a hotel stay, especially factoring in not having to eat out every time.
Packing though for a vacation rental vs just a hotel stay is a bit more taxing.
Most houses come with a bit of average things you'd need or want like: paper towels, toilet paper, salt and pepper, oil and such.
This last place we stayed at with Sweet Home Rentals, which we love renting from, had a really great stock kitchen when it came to kitchen items. We were quite impressed with it. One of the most stocked kitchens we have run across while renting with them.
That aside, there were a few things that I wish I had packed with us for ease of "living". My 5 things for a vacation rental might be useful for your next vacation rental too.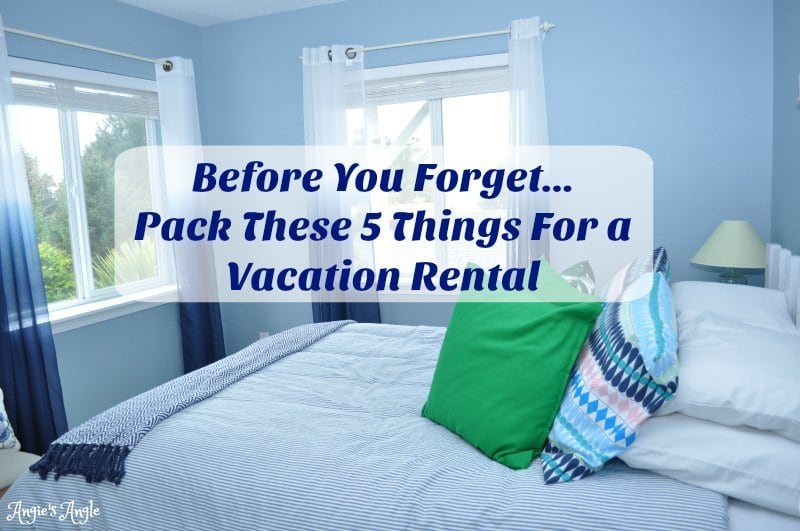 5 Things For a Vacation Rental
Kleenex
I found that I don't much care for wiping my nose with toilet paper. A box or two of tissue to store around the vacation rental would be so useful. Grab one of those tall square boxes to take up a bit less space while packing. Leave out one in the main living area and one in the bathroom or bedroom of your choosing. Just keep them handy.
This was my conclusion after having Jason go out and buy a box of tissue for the house. Save yourself that step that isn't needed.
Dishcloth
I don't know much about other vacation rentals, as we tend to stick with Sweet Home Rentals thus far. But they give you several regular hand towels for the kitchen but no dishcloth. Paper towels just don't cut wiping down the counters and tables, I need my dishcloth.
Kitchen Sponge
Again, not quite sure on other vacation rentals, but Sweet Home Rentals gives you a washing brush quite often. Personally, I prefer a sponge to clean with. Without a doubt, I'll be packing up one of my million kitchen sponges to take with me for ease of washing of the dishes. You may not wash the same way as me – but if you do bring it!
Extra Sheets/Blankets
Since we bring Roxy with us and she is used to jumping on everything and snoozing away. We bring extra flat sheets and/or blankets to cover the furniture and beds. Now Roxy doesn't shed at all and doesn't chew or pee on things but still I cover them up to keep their furniture fresh and clean. Bring a dog, bring those extra sheets or blankets with you.
Extra Paper Towels/Napkins
While they provide you with enough paper towels to get you started, sometimes we run out and need to buy. Plus they don't provide napkins which I prefer using while eating than using up a full paper towel sheet. Next time I am packing up some napkins so I am covered.
Those are my 5 Things For a Vacation Rental.
Keep in mind, don't forget those games, clothes, food and extras goodies so you can relax and enjoy your vacation to the fullest.
What would you bring on a vacation rental? What are your must haves that I didn't mention?