I received Swagbucks for posting about how I personally use Swagbucks. All thoughts though are 100% my own. If you join Swagbucks with any of the links provided below, you'll become my referral and I'll earn while you earn.
Hearing it time and time again on here, Swagbucks. There is a reason I happily promote Swagbucks though on the blog here. I truly love Swagbucks. My husband uses it, I use it. Today I am going to give you the reasons behind my love of Swagbucks.

Reasons Behind My Love of Swagbucks
When I first joined Swagbucks. I just was joining to help someone out. As you would me, if you join today, here. I ignored it and didn't do much with it at all. Silly me, I should have been actually using it from that first day I joined.
It's easy to be confused on how to use it when you first join. Yea, it's easy enough to understand that searching can get you search wins. But how else do you use the site and earn enough to cash out each month? It is to be noted that remember Jason and I both cash out for at least $25 Amazon a month, quite often more than that. So it's not chump change in my opinion. It is worth it and does pay. I wouldn't be promoting it otherwise.
To get started with Swagbucks, why don't you start out by doing the daily to-do list. This is an easy way to get started on with how Swagbucks works and earns you extra points for doing the first 6 and then 8 of the list each day.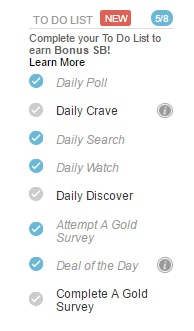 As I stated starting here is going to help you so much on getting used to the Swagbucks site and how you can earn every day. Making your daily goal is the next step in earning all you can. The following month you earn bonuses for each day you made a goal. So it's helpful to get it every day if you can.

The daily goal is up at the top right panel and the weekends normally have smaller goals than your average weekday. Holidays are usually lower as well.
The left side panel shows all the ways you can earn with Swagbucks.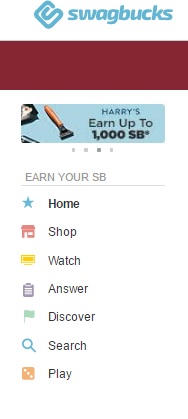 Join Swagbucks Today
Trust me it's easy to learn and use Swagbucks. Which is why I have such a love of Swagbucks. I swear you'll love it too if you give it a bit of attention to figure it out.
Join today, here and if you ever have any questions never fear on asking me. I'd be happy to help you out.