I received Swagbucks for posting about this promotion. If you join Swagbucks with any of the links provided below, you'll become my referral and I'll earn while you earn.
The best intentions. I had grand plans of getting back to a regular schedule with this blog. Sadly though we had a major heat wave. With that heat wave came in some heavy smoke from Canada. One of those, or both, gave me a major headache most of the week. Nothing got done, which bummed me out. In the next week or two, you'll be seeing more around here again, I promise. So please stick with me and you'll see there will be regular postings again. In the meantime, check out the giveaways and some of the older posts that strike your fancy. You might see things you never ran across before.
Now though, I am sharing with you all another round of Swago from Swagbucks. In the Swago Back to School edition, you'll be able to earn a bit extra with ease. Read about it all below and then join Swagbucks today to join the fun and great earnings.
Swago Back To School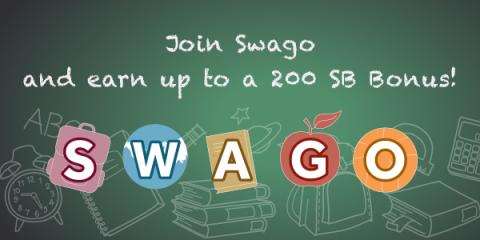 If you still haven't done your Mother's Day shopping, here's a way you can get paid for finding a great gift for the moms in your life.

Swagbucks is hosting another round of Shopping Swago! What is SWAGO you ask? It's a bingo-inspired promotion run by Swagbucks, a website that rewards you with points (called SB) for completing everyday online activities. You can redeem those SB for free gift cards. If you've never used Swagbucks, participating in SWAGO is a great introduction to the site and an easy way to earn a good amount of points quickly.
Here's what you need to know to get your 200 SB Bonus (and don't worry, you don't have to make a purchase to complete a pattern):
Shop Swago will begin on

Monday, August 7th at 9am PT/12pm ET

, make sure you hit "Join" otherwise you won't get credit for completing the action items.

Each square on your

Swago Board

will contain an action item to complete.

Once you complete the action item in a particular square the square will change color signifying the action item is complete.

You have a limited amount of time to mark off as many squares as possible so use your time wisely.

Be mindful of the patterns and their corresponding bonuses located on the right of your

Swago Board

. The patterns will vary in difficulty and bonus value.

Once you've achieved a pattern the corresponding "Submit" button will light up. You can have multiple patterns available for submission, however,

you can only submit ONE pattern so choose wisely.

The game ends

Thursday, August 10th at 12pm PDT/3pm EDT

. So make sure to hit "Submit" on the pattern you wish to submit.

If you don't hit "Submit" before the game ends you won't receive your SB bonus.

Also, if you sign up through me this month, you'll get a $10 rebate when you make your first purchase via Swagbucks Shopping! You can activate it in the "Swag Ups" area of "My Account"