Thanks to Tryazon and Thames & Kosmos for allowing us to host this game night. Below you'll find Amazon Associate links and I may receive a kick back if you order from the links.
If I told you to describe a word, you'd likely say that's easy! Well, you'd be wrong. With this whole new word game, describing the word you need your team to guess is not easy. It's pretty exciting to let you all in this fun whole new word game called Word Slam.
Tryazon was offering up a game night with Word Slam and I hurriedly applied knowing this was the perfect game for me. We had talked about doing a bigger BBQ before the end of the summer but hadn't picked a date. This ended up being the perfect excuse to throw our party and pick that date. Happily, I quickly got picked as one of the hosts and the party planning officially kicked into gear.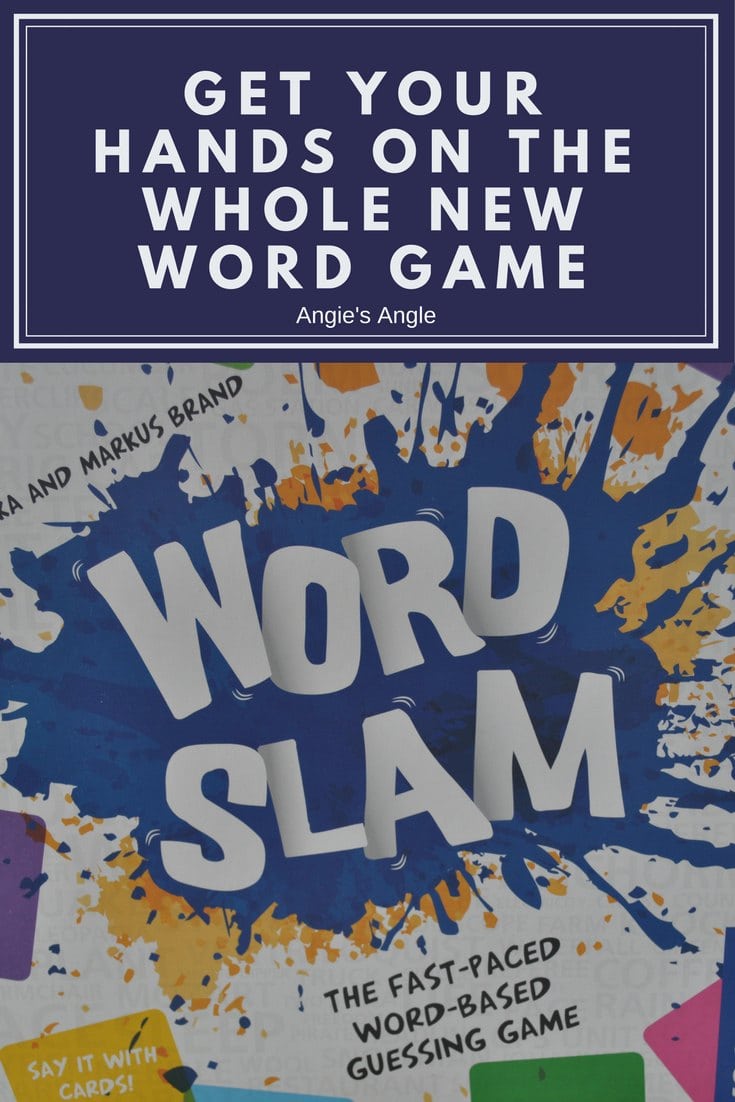 Party Planning
Facebook events seem to be fading thing when it comes to personal parties. But, it's how I liked to plan a party. Gives me a chance to let them know what I plan and hopefully get a decent head count. Just the matter of people actually seeing it and remembering they saw it. Speaking of that, how do you like to invite people to gatherings?
Decided that we'd be providing the meat with some of the drinks. And because I am who I am, I also made up a fruit and veggie tray – okay two. Along with homemade onion dip, homemade ranch, and a few special made up drinks. The guests attending were to bring a side to share. The meat we ended up doing was Jason's special family secret beef bulgogi – Korean BBQ. We had also bought sausage and hot dogs if someone preferred that over the beef. That ended up not being the case though.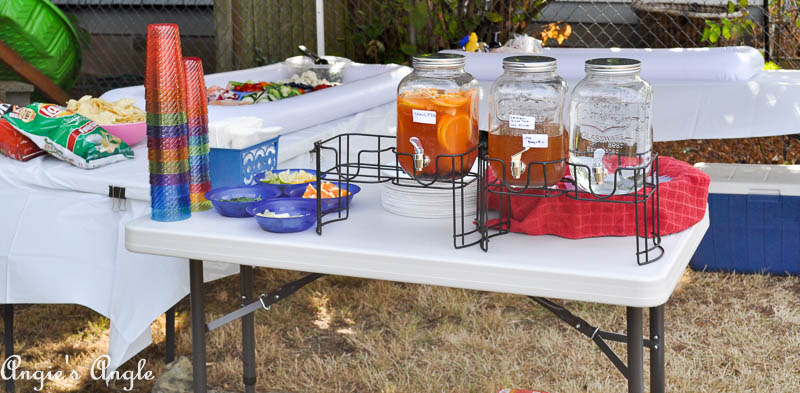 Drink station basically. The three drinks are out at this moment but we added the fourth later. Water, lemon mint iced tea, sangria, and a mojito. Along with lemons, limes, oranges, and mint for your drinks if you'd like. Ice was in the ice chest next to it, not pictured.

Table One with the inflatable serving bar to keep food cold while outside. Below is the table two. I probably didn't need to put out the second of the three inflatable serving bar but I wasn't positive all who would come. So in my head, I wanted more space if people showed up with cold food.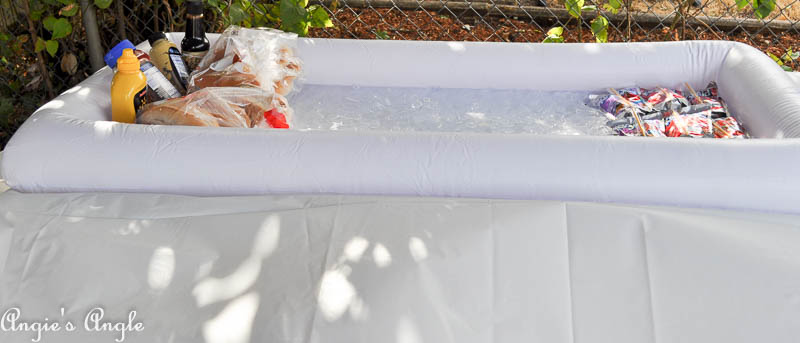 Jason and I were able to play a quick play through (kind of) of the game the night before our party. Ended up getting the main concept of the game down hopefully enough to teach the others the next day.
Party Time
Party time was supposed to start at 4 pm. Thankfully, the only people who came at that time was my best friend and her family. Cause we were running behind. Here I had thought I had done a bit of the prep and would be golden for party day. Close to 5 we were ready and the next guest arrived shortly there after. The last few arrived after they got off work.
The turn out was decent but nowhere what I was hoping for. As I wish for each thing we host. With hosting, I feel so much more comfortable and people tend to get to see the "real" me.
We mingled, ate, and drank. A few of us played a few of the lawn games that I had set out.
After eating and enjoying ourselves. It was decided to move inside because it was kind of windy outside to play Word Slam. I grabbed my needed group picture before doing that. The sun had other ideas when it came to a decent picture though.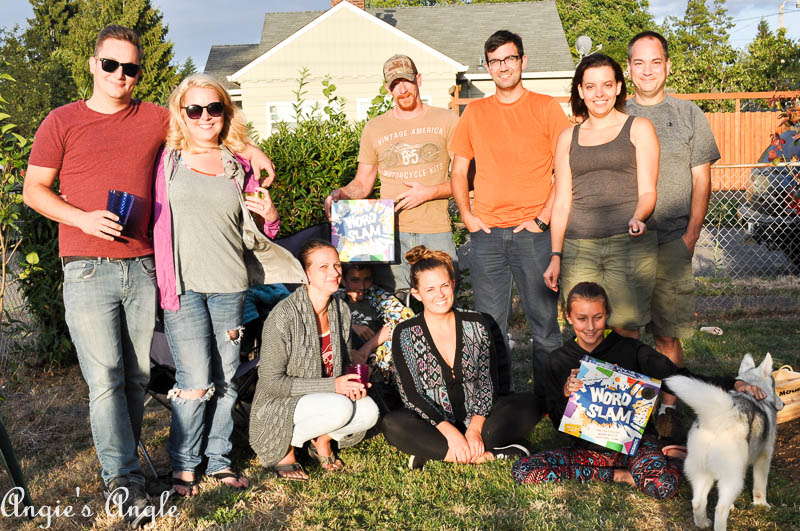 Word Salm Time
Pushing our dining room table and the long folding table up we had the perfect set up to start Word Slam. There ended up being ten of us, so we had 5 players on each time. Was actually perfect numbers for that.
To play the need of 3 or more players. Word Slam is best explained as charades with cards. The person that is playing the cards to describe the word must not say a single thing or do any body actions that could give the word away. Must be described only with the 105 cards of a noun, verb, adjective, or preposition.
With only being able to use these 105 cards it causes you to be super creative and your team quick thinking to guess what the word is before the other team.
After we broke up into teams, Jason explained a bit more about the game and what we had to do. I had completely forgotten that we were to play at the same time. Thought it would be a good idea to set up the tripod with the camera while we played. Sadly, I didn't think to zoom in more to get the real action or change sides to show everyone.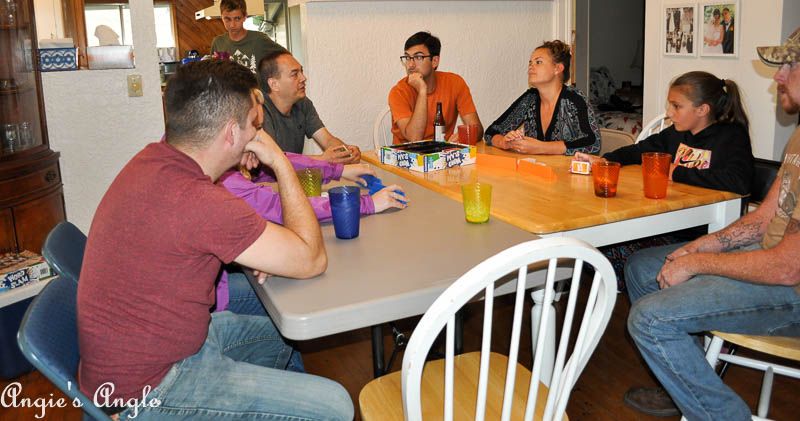 Everyone quickly grasped the game and we started in. It was seriously so much fun and will be one we play quite often in the future. Without a doubt, if you like word games and party games at that, you must buy Word Slam today.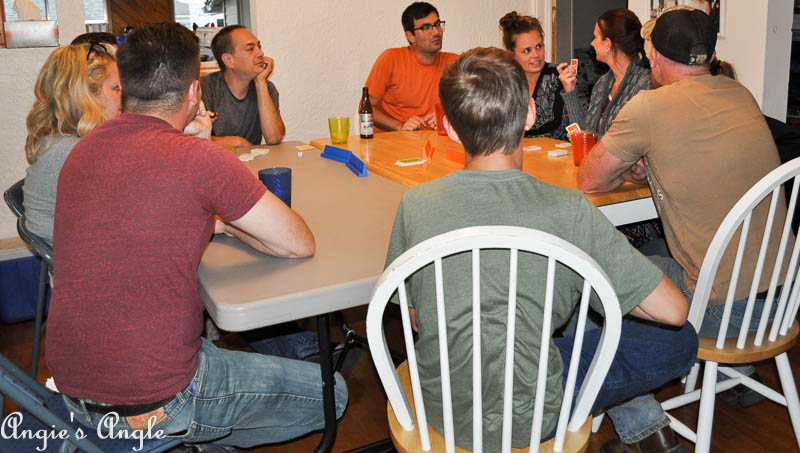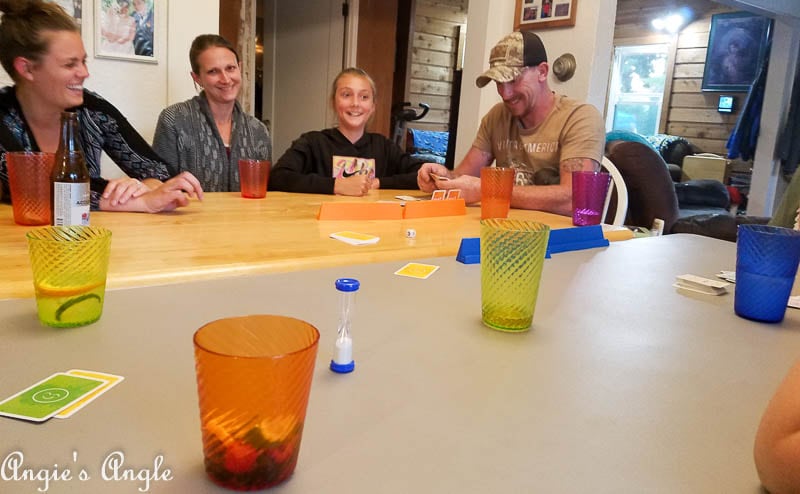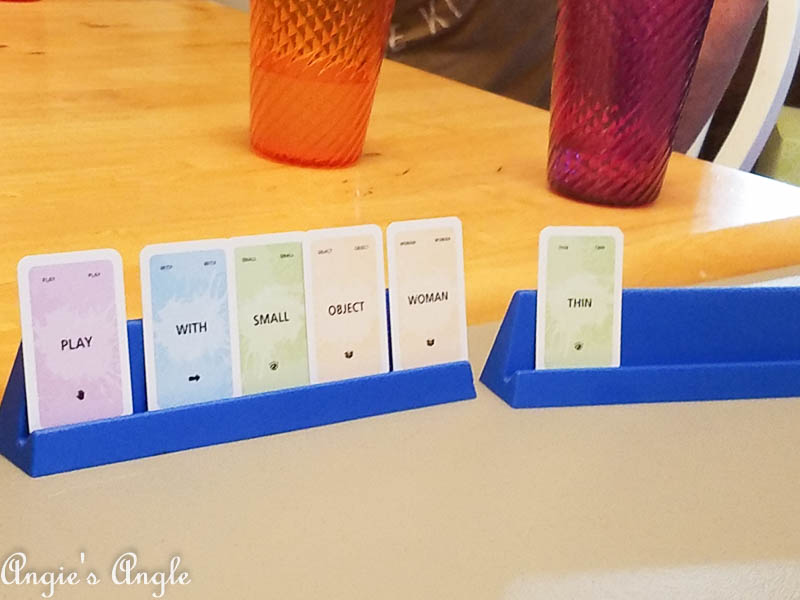 Am so grateful I was able to host this game night with Tryazon and Thames & Kosmos. I think everyone walked away having had a great time and one happy little girl who won the extra game in a random drawing.
What do you think of Word Slam? Will you be adding it to your game collection? FYI – you should be!