I received Swagbucks for posting about this promotion. If you join Swagbucks with any of the links provided below, you'll become my referral and I'll earn while you earn.
Posting this Swagbucks special today for the 2017 Swagbucks Holiday Sale. While I was going to get back to post something for Beauty Monday, yesterday didn't go as I had envisioned. So instead, you'll be getting this informed post about the Holiday sales around Swagbucks. If you are not already a member of Swagbucks, now is the time. With the Holidays coming, you'll be able to shop like you normally do through Swagbucks and get cash back. Use that cash back to buy even more gifts with no worries.
Check out the details below.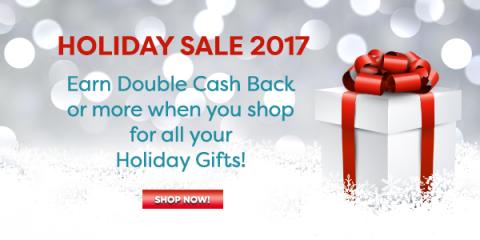 2017 Swagbucks Holiday Sale
Swagbucks is offering double cash back at dozens of different stores (like Macy's and Target) during their 2017 Holiday Sale. Just go to this page to see all of the deals available and get the jump on your holiday shopping. There are
In order to take advantage of the cash back, just create your Swagbucks account when prompted (it takes less than 30 seconds) and then you're all set! Your cash back comes in the form of SB points, which you can redeem for gift cards to places like Amazon, Target, Walmart, Starbucks, or get PayPal cash!
As a special bonus, if you sign up through me you get a 300 SB ($3) bonus when you earn your first 300 SB before December 1st! This site's a great way to extend your shopping budget, especially around the holidays!