I received Swagbucks for posting about this promotion. If you join Swagbucks with any of the links provided below, you'll become my referral and I'll earn while you earn.
The Christmas buying season is officially here you all. Time to save where you can and get cash back where you can. That is where Swagbucks comes into line. Get some Black Friday deals with Swagbucks and never regret doing that to save money. Read below all about it.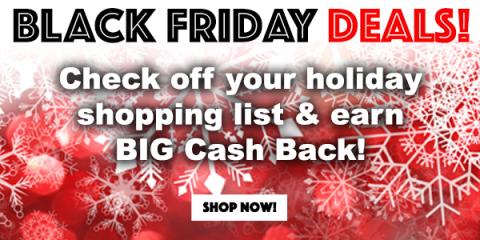 Black Friday Deals with Swagbucks
The Cashback Shopping site Swagbucks is offering big cash back at over 120 different stores all throughout Black Friday weekend. They're also offering big payouts on a variety of different deals and offers from companies that would make great gift ideas. Get great deals without waiting in lines or even leaving your home!
If you're not familiar with Swagbucks, they offer cash back in the form of points when you shop. Then you can turn those points into gift cards to places like Amazon, Starbucks, Target, or PayPal cash. You can also earn points for discovering deals, watching videos, answering surveys and more!
Click here to take advantage of the cash back, just create your Swagbucks account when prompted (it takes less than 30 seconds) and then you're all set!
As a special bonus, if you sign up through me you get a 300 SB ($3) bonus when you earn your first 300 SB before December 1st! This site's a great way to extend your shopping budget, especially around the holidays!