sun-protectedIt an
We love getting out in the world and seeking adventure. Adventure, as I always say, doesn't have to be something super daring or scary. To me, some of the best adventures are just walking around someplace I've never been. Or just heading out for the weekend with no destination in mind. It's all an adventure. Adventure is all just about how you think about it, not so much what you are doing.
With our year of exploring well underway, and most of those adventures going to be in a car. I thought about the 11 items to keep in your car for all those upcoming adventures. With an upcoming Oregon Coast getaway next on our list and with several hiking trips and camping trips planned, having things already in the car ready to go is so helpful. While out there and doing and seeing it, being prepared is my favorite.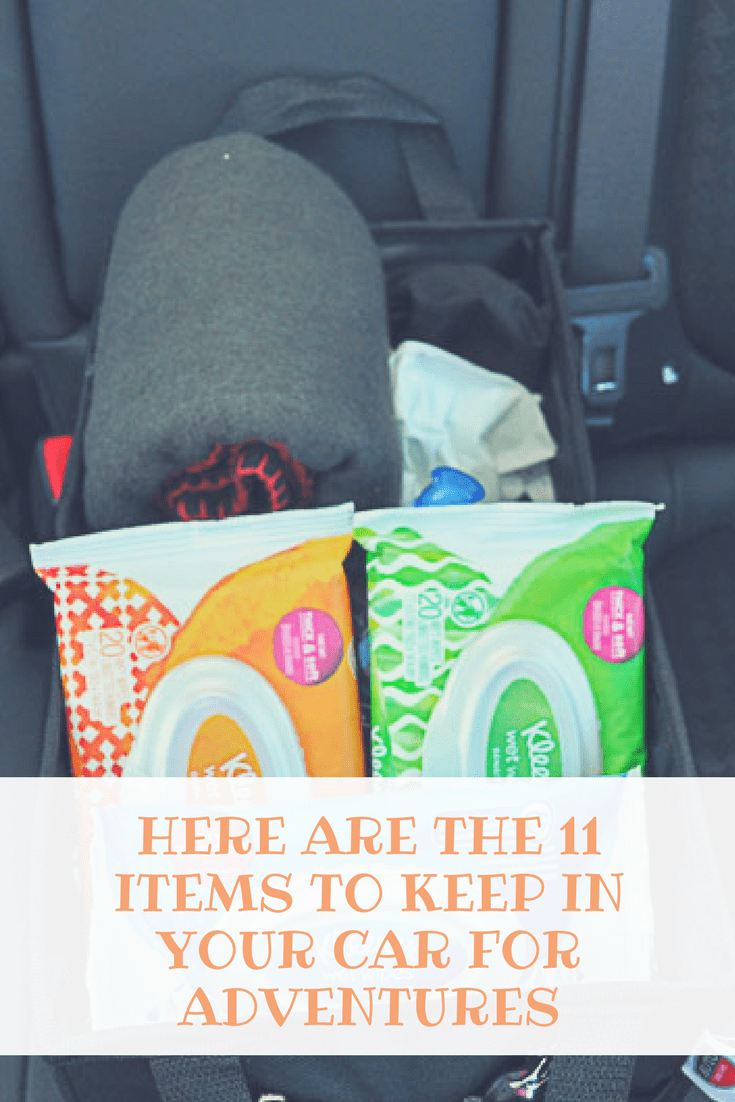 11 Items to Keep in Your Car for Adventures
Small Toolbox/Kit – never knowing what you might run into on the road, having some kind of small kit in the car is helpful so you can fix some minor things on your own and be on your way.
Throw Blanket – I don't know about you. But even in the warmer weather, sometimes the comfort of a blanket on my lap is comforting. Having a small throw blanket in the car for that kind of occasion is needed. Or sitting out to having a picnic.
Flashlight – again, things happen. Don't be left in the dark. Even one of those small portable flashlights would be great to stick in your car kit.
Water – doesn't matter how you keep water in the car. It can be a bigger bottle to fill your regular drinking cup. Or in the single easy to use water bottles. Just keep it, you'll thank me later.
Napkins/Paper Towels – personally, I don't think any more needs to be added to this one, it's a no-brainer I think.
Sunscreen – keep your sun protected all the time by having sunscreen right in your car. Forget to put it on before you left? No problem. It's in your car ready for you. Plus, it makes reapplying every two hours if you are out in the sun easier.


Wait there is more…

Kleenex – the sniffles get me almost every time I am out and about. So having soft kleenex to wipe my nose with is a MUST.
Lip Balm – and once again protection. Your lips are going to be hit by the sun, the wind, and other outdoor elements. Keep them protected so you save your lips.
First Aid Kit – My saying is always better safe than sorry.
2 pairs of Sunglasses – why two sunglasses you may ask? If you lose or break the ones you are wearing, don't go without, have a back up in the car with you.
Kleenex Wet Wipes – And I saved the best for last. Eating in the car, camping, hiking – it all gets messy and makes you feel gross. Which is where the Kleenex Wet Wipes come in, gentle yet effective cleaning. No need for water and comes in three different varieties: Gentle Clean, Germ Removal, and Sensitive. These will always be in our car for all our adventuring. And I can see using these a lot while camping. How about you?



Find your package of Kleenex Wet Wipes at Target online or in-store. Just $1.49 each, it's easy to stock up. These wipes are strong and made for face and hands to be used to clean even the messiest of faces and hands. Made with no harsh chemicals. Free from dyes, alcohol, parabens, sulfates, and phthalates.
Made to be used at home or on the go, Kleenex Wet Wipes are the perfect option.