Links used below are from Amazon and while I am an Amazon Associate, buying through the links below may provide the blog a kick-back for you doing so, at no extra charge to you.
Books are one of my passions. I love reading. But as a blogger, I completely stink at doing actual full book reviews. Rarely will you find them posted on the blog. There is one gal I do them for and those are few and far in between. Because I do love reading and do it often, as you see on Instagram, I thought a fun way to bring my love of books to the blog.
Each month, I'll be sharing with you all the books I have read the previous month. Giving you the stars I gave them along with a description from Amazon and linking to the book to buy on Amazon if you so choose. So look forward to each month to the books I read and a little of what I thought of them.
I am so late getting what I read in March 2018 up and thought seriously about just combining March and April but opted against that. I like having the streamline of each month. As the saying goes, better late than never. Or in this case, combined with another month.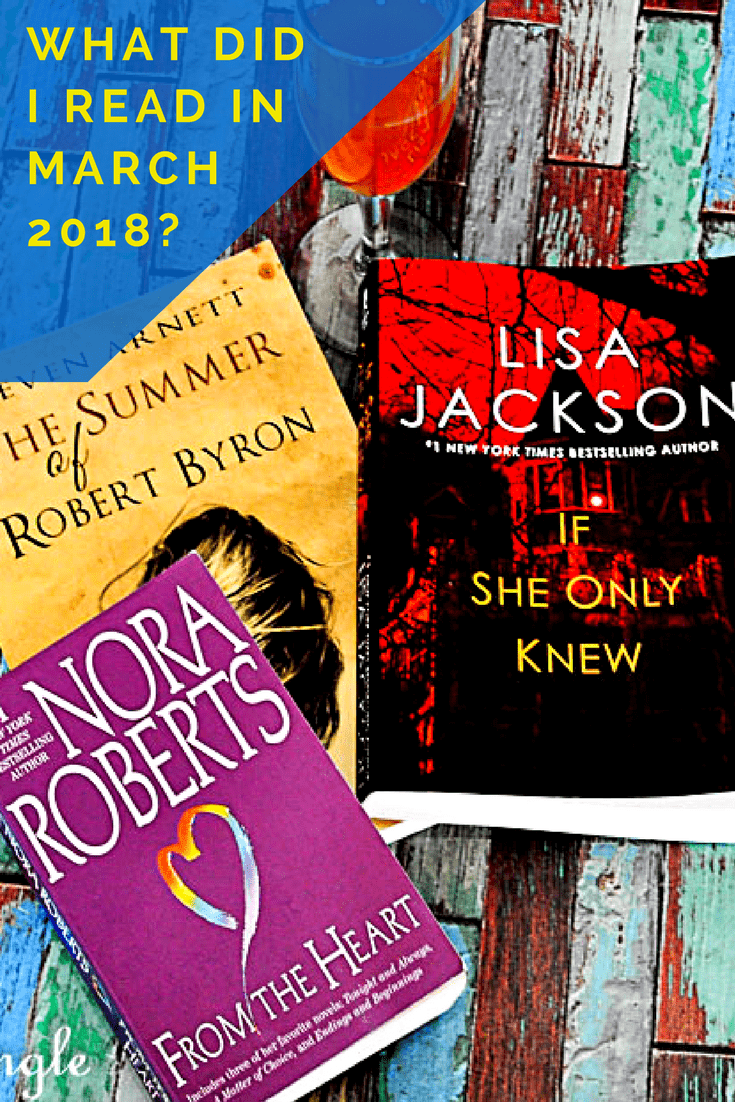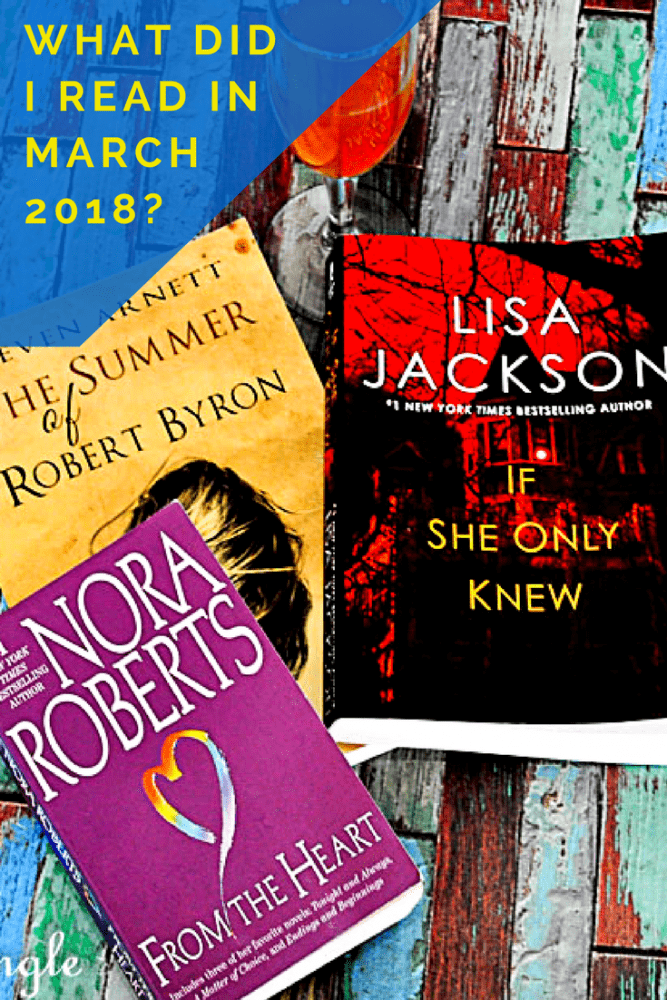 What Did I Read in March 2018?
As I said, I know this is late this month. But with our vacation at the beginning of the month and then having to be on top of the three campaigns that took a bit more effort than average. Time wasn't my friend. But here we are with my read in March 2018!
Four books isn't bad. Three hardbound books and one kindle read. It's better than last month at least! And I have a real winner at the very end too. That I swear you gotta buy and read if you haven't read it already.
3 out of 5 stars
Actually three books in one. Some of Nora Roberts older reads. A nice enough collection but not my favorite of Nora Roberts books.
In this stunning collection of three of her favorite stories, #1 New York Times bestselling author Nora Roberts illuminates the dreams that lead us toward destiny—and the desires that rule over our hearts…
TONIGHT AND ALWAYS

When a renowned anthropologist agrees to help a writer research his new novel, she isn't prepared for the passion their collaboration sparks…
A MATTER OF CHOICE

An international smuggling ring traps a beautiful antique dealer and a New York City cop in a web of danger and desire…
ENDINGS AND BEGINNINGS

Two Washington television reporters try to protect their love from their own professional rivalry—and the hazards of their celebrity…
2 out of 5 stars
Actually got this for a review book…and I really wanted to like the book. But I just couldn't. I didn't feel like I got actually got to know Robert & Jean. It lacked depth of feeling for me.
It's fall 1966, and Robert Byron has returned to his hometown of Blue Spring in Michigan after serving in Vietnam. Everyone there tries to welcome him home, but he's unsocial and ends up alienating almost everyone. He pretty much keeps to himself through the winter, until the money he'd saved up in Vietnam runs outs, and he has to go back to work. He meets Jean Summers, a teacher at Blue Spring High School who'd just started her teaching career the previous fall herself when Robert is hired by her landlord to do some work on the house she's renting. They're complete opposites in personality, but somehow, they're attracted to each other anyway. The Summer of Robert Byron is their story: Of how Jean tries to redeem through love Robert's alienation and the dark secret that he has brought home with him from the war. Can she succeed or is it too late to ever really bring him home again?
3 out of 5 stars
My kindle read for the month. And it was so good! While I did give it a 3 star, don't let that fool you. This was a very enjoyable read.
A Word Award winner.
It's 1939, and Canada is on the cusp of entering World War II. Seventeen-year-old farm girl Cornelia has been heartbroken since the day her mother died five years ago. As a new tragedy provides Cornelia still more reason to reject her parent's faith, a mysterious visitor appears in her hour of desperation. Alone and carrying a heavy secret, she makes a desperate choice that will haunt her for years to come. Never telling a soul, Cornelia pours out the painful events of the war in her diary.
Many decades later, Cornelia's granddaughter, Benita, is in the midst of her own crisis, experiencing several losses in the same week, including the grandmother she adored. The resulting emotional and financial stress takes its toll on her and her husband, Ken, who is unemployed. On the brink of divorce, she discovers Cornelia's diary. Now the secrets of her grandmother's past will lead Benita on an unexpected journey of healing, reunion, and faith.
5 out of 5 stars
Book One of the San Francisco Series. Buy it now, trust me. I love Lisa Jackson, love her. But this one is probably now of my favorites. In fact, I had to buy the second one in the series soon after so I could read it sooner rather than later.
What if you were a stranger, even to yourself? In this riveting novel of suspense, bestselling author Lisa Jackson keeps readers guessing through every twist and turn when a shocking accident leaves one woman wondering who she is, what she has done—and why she could be the next to die…

It begins on a dark stretch of highway in northern California. Caught in a blinding glare of headlights, two vehicles swerve and crash—leaving one woman dead, and another in a coma. When the surviving woman awakens, her memory is gone and her face has been reconstructed. Her family tells her that her name is Marla Cahill—but they're all strangers to her.
Recuperating in her isolated San Francisco mansion, Marla waits for something to trigger recognition. Yet the only thing she's left with is the unshakable feeling that she is not who everyone says she is, and that something is very, very wrong. Marla knows her life isn't just different—it's in danger. And as her fear builds, a killer waits for the perfect moment to strike—the moment Marla remembers…