Links used below are from Amazon and while I am an Amazon Associate, buying through the links below may provide the blog a kick-back for you doing so, at no extra charge to you.
Books are one of my passions. I love reading. But as a blogger, I completely stink at doing actual full book reviews. Rarely will you find them posted on the blog. There is one gal I do them for and those are few and far in between. Because I do love reading and do it often, as you see on Instagram, I thought a fun way to bring my love of books to the blog.
Each month, I'll be sharing with you all the books I have read the previous month. Giving you the stars I gave them along with a description from Amazon and linking to the book to buy on Amazon if you so choose. So look forward to each month to the books I read and a little of what I thought of them.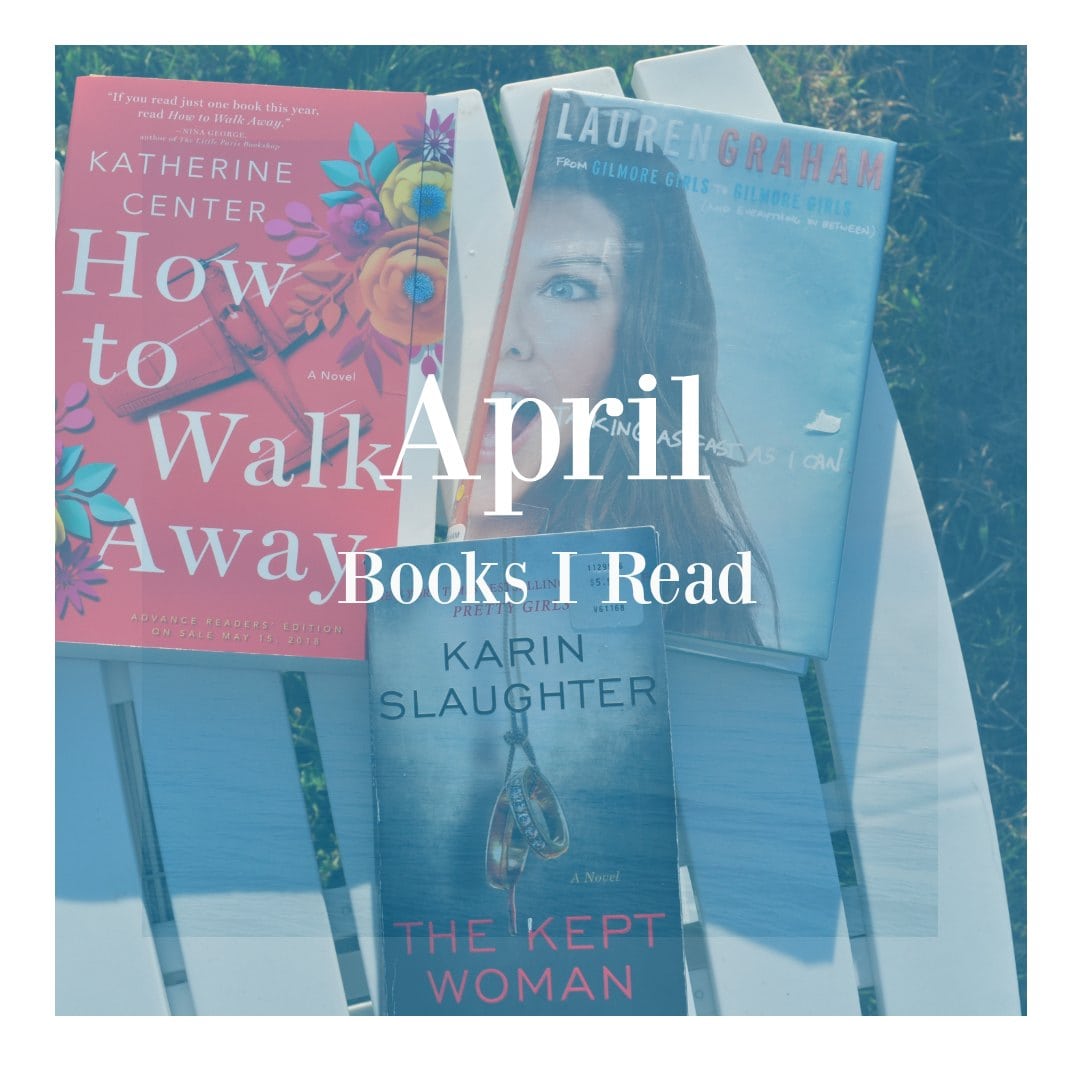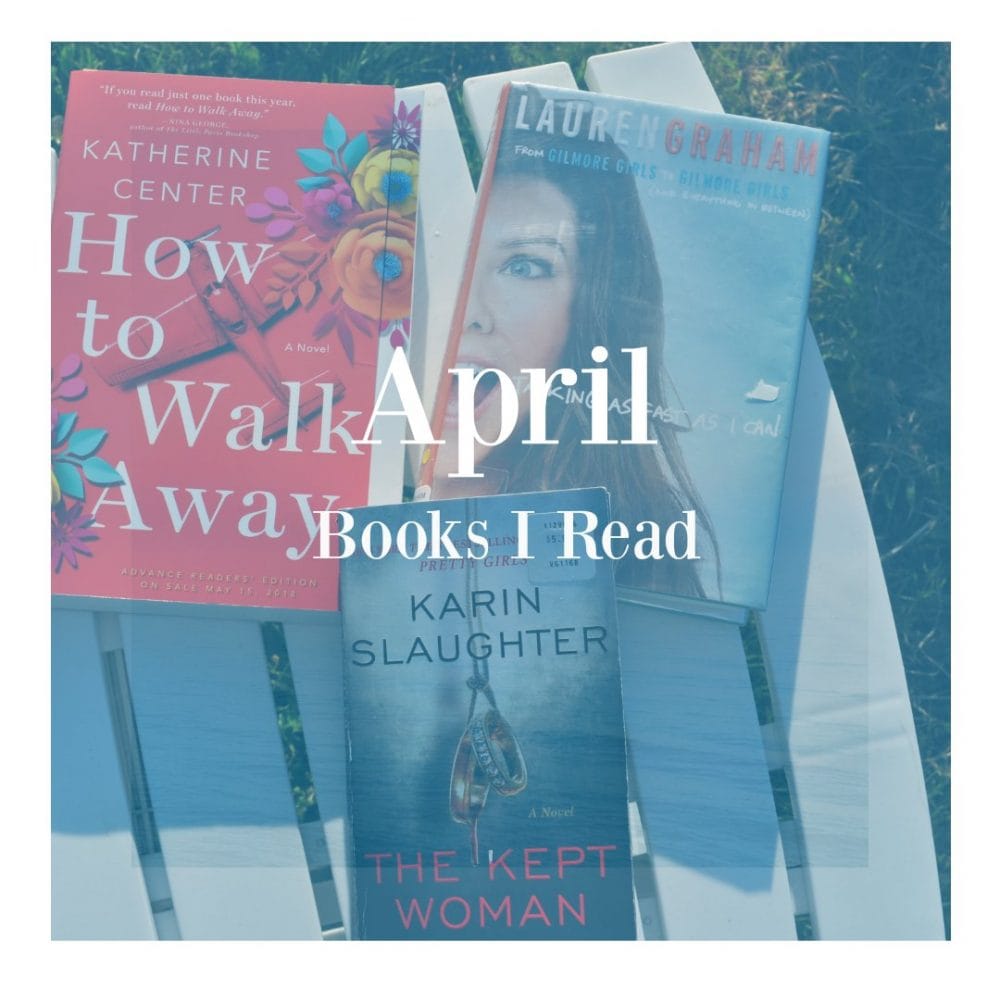 What Did I Read in April 2018?
April seemed to be an average reading time for me. I finished 4 books total. Three of them hard copies and one kindle. I am still whining to myself that I am not getting the six I did back in January. I want those kinds of totals again. But I am not going to beat myself up over getting four either.
Quite often in the summer, I read a bit more because I like to sit out in the sun and read. So hopefully, that'll be the case again for our summertime.
4 out of 5 stars
I liked this book. It felt a little funny at first but I quickly adapted to it and fell in love with it. Was it my favorite? Nope, but it was a fun little read.
In Talking as Fast as I Can, Lauren Graham hits pause for a moment and looks back on her life, sharing laugh-out-loud stories about growing up, starting out as an actress, and, years later, sitting in her trailer on the Parenthood set and asking herself, "Did you, um, make it?" She opens up about the challenges of being single in Hollywood ("Strangers were worried about me; that's how long I was single!"), the time she was asked to audition her butt for a role, and her experience being a judge on Project Runway ("It's like I had a fashion-induced blackout").
In "What It Was Like, Part One," Graham sits down for an epic Gilmore Girls marathon and reflects on being cast as the fast-talking Lorelai Gilmore. The essay "What It Was Like, Part Two" reveals how it felt to pick up the role again nine years later, and what doing so has meant to her.
Some more things you will learn about Lauren: She once tried to go vegan just to bond with Ellen DeGeneres, she's aware that meeting guys at awards shows has its pitfalls ("If you're meeting someone for the first time after three hours of hair, makeup, and styling, you've already set the bar too high"), and she's a card-carrying REI shopper ("My bungee cords now earn points!").
Including photos and excerpts from the diary Graham kept during the filming of the recent Gilmore Girls: A Year in the Life, this book is like a cozy night in, catching up with your best friend, laughing and swapping stories, and—of course—talking as fast as you can.
5 out of 5 stars
Was a fantastic read. I didn't realize it was like book 8 of the Will Trent series until I had already started reading it. But, I don't think you need to read them in any order to enjoy and understand them. With that being said, I did order the first book of the Will Trent series. Because it was good!
With the discovery of a murder at an abandoned construction site, Will Trent of the Georgia Bureau of Investigation is brought in on a case that becomes much more dangerous when the dead man is identified as an ex-cop.
Studying the body, Sara Linton—the GBI's newest medical examiner and Will's lover—realizes that the extensive blood loss didn't belong to the corpse. Sure enough, bloody footprints leading away from the scene indicate there is another victim—a woman—who has vanished . . . and who will die soon if she isn't found?
Will is already compromised, because the site belongs to the city's most popular citizen: a wealthy, powerful, and politically connected athlete protected by the world's most expensive lawyers—a man who's already gotten away with rape, despite Will's exhaustive efforts to put him away.
But the worst is yet to come. Evidence soon links Will's troubled past to the case . . . and the consequences will tear through his life with the force of a tornado, wreaking havoc for Will and everyone around him, including his colleagues, family, friends—and even the suspects he pursues.
Relentlessly suspenseful and furiously paced, peopled with conflicted, fallible characters who leap from the page, The Kept Woman is a seamless blend of twisty police procedural and ingenious psychological thriller — a searing, unforgettable novel of love, loss, and redemption.
5 out of 5 stars
I actually received this book as an advanced copy from She Speaks and St. Martins Press. And holy heck was it good! I flew through this book and at the same time didn't want it to end. Even though I totally saw where it was heading once it started going.
Margaret Jacobsen is just about to step into the bright future she's worked for so hard and so long: a new dream job, a fiancé she adores, and the promise of a picture-perfect life just around the corner. Then, suddenly, on what should have been one of the happiest days of her life, everything she worked for is taken away in a brief, tumultuous moment.
In the hospital and forced to face the possibility that nothing will ever be the same again, Maggie must confront the unthinkable. First, there is her fiancé, Chip, who wallows in self-pity while simultaneously expecting to be forgiven. Then, there's her sister Kit, who shows up after pulling a three-year vanishing act. Finally, there's Ian, her physical therapist, the one the nurses said was too tough for her. Ian, who won't let her give in to her pity, and who sees her as no one has seen her before. Sometimes the last thing you want is the one thing you need. Sometimes we all need someone to catch us when we fall. And sometimes love can find us in the least likely place we would ever expect.
How to Walk Away is Katherine Center at her very best—a masterpiece of a novel that is both hopeful and hilarious; truthful and wise; tender and brave.
4 out of 5 stars
A seriously weird book but it was enjoyable and kept me guessing.
ALL CAN SEE IN THE HOUSE OF MIRRORS
When Ritchie Naughton, amateur photographer, stumbles upon a house in the woods, strange things start happening. His camera captures images that should not exist, things that cannot be explained. Soon he'll realize that the people of Red River, New Jersey are in terrible danger. A darkness grows within the house, threatening them all.
The House of Mirrors is open, and once you see yourself in, there's no way out…
In the House of Mirrors is a 90,000-word supernatural mystery thriller recommended for fans of horror fiction, private investigator fiction, and haunted house stories.