I received Swagbucks for posting about this promotion. If you join Swagbucks through any of the links provided below, you'll become my referral and I'll earn while you earn.
You'll read about Swagbucks around here once to twice a month on average. It's been one of our favorite easy to earn a bit extra each month. Since Jason and I both do it on a daily basis, we earn at least $25 Amazon a month, often more. All we really do too is get our daily goal. Which means watching videos, trying some surveys, playing Swag IQ (which is newish), and other various way to earn things daily.
Join Swagbucks in October and start earning money towards those Holiday gifts with ease. You can trust that Swagbucks works and you do earn since I only talk about things that actually work and do as they say. If they do not, I will be open and honest that it just doesn't work as stated.
Read below on why you should join Swagbucks in October and start earning now.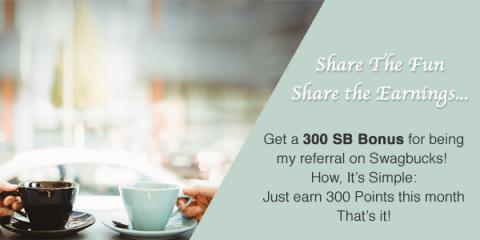 Join Swagbucks in October
All throughout October, you can earn large bonuses when signing up as my referral on Swagbucks. Swagbucks is a rewards site where you earn points (called SB) for things you're probably doing online already, like searching the web, watching videos, shopping, discovering deals, and taking surveys. Then you take those points and exchange them for gift cards to places like Amazon, Target, or PayPal cash.
When you sign up through me this month, you can earn a 300 SB bonus! Here's how:
2. Earn 300 SB total before November 1st, 2018. You'll get a 300 SB bonus for it!
3. That's it. It's super easy, and Swagbucks is for real. As stated above both my husband and me use it on a daily basis and it does work! If you need help earning, please feel free to reach out to me and I'll try and guide you to the ways to earn.