A long time ago, in a far far land, when Miranda from I Don't Give a Knit blogged. We were there for each other, helping share each others posts, comment, and in general support each other on our growth.
Now Miranda has taken a slight turn and has opened her very own Etsy shop. So to help keep the tradition of supporting each other around, here I am offering up a giveaway from her shop with this I Don't Give a Knit Giveaway.
First though, I want to give you a chance to get to know her and why she started her own shop.
I Don't Give a Knit Introduction
Hi! My name is Miranda. I am the creator and crocheter behind my small business, I Don't Give A Knit. I've been crocheting off and on for most of my life, but really got serious a few years ago and was encouraged by people close to me to sell some of the items I was making. Soon my Instagram page was born, and more recently, my Etsy shop.
When I first started sharing, I had countless people tell me how much they loved my knitting. Now, someone unfamiliar with yarn crafts probably would lump knitting and crochet together. I mean, they both use yarn, right? But there are many differences. For one, knitting uses 2 needles and crochet uses 1 hook. I got tired of telling everyone, "Thanks, but it's crochet. I don't knit." And since I'm one of those corny people that love puns, it wasn't much of a stretch to come up with the name "I Don't Give A Knit."
I'd love for you to come to check out my page, get to know me a little bit more, and hopefully, find something you love!
I Don't Give a Knit Giveaway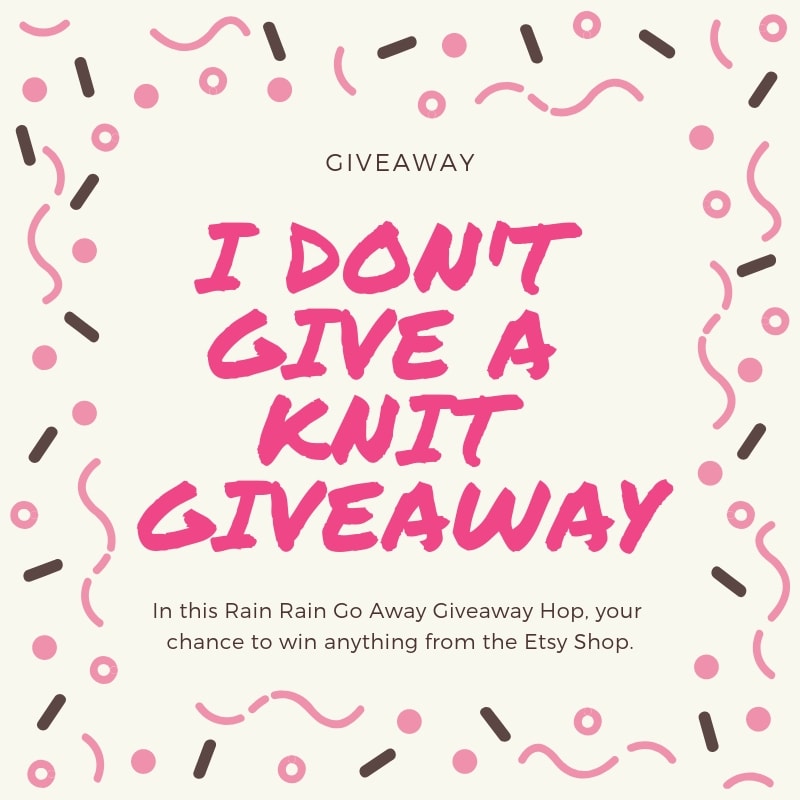 Now is your chance to win anything you choose from I Don't Give a Knit. If you the winner, you'll get your choice of any product from her shop.
For your chance to win, just enter via the Gleam platform below. Winner will have 48 hours from the time I email them as the winner to get back to me, otherwise I will be forced to pick a new winner. Remember to come back daily for your daily entries and entries may change over the course of the giveaway.
Good luck!
I Don't Give a Knit Giveaway
Rain Rain Go Away Giveaway Hop
Now that you have entered my giveaway, you have the chance to hop around to all these amazing blogs to enter for some more goodies. Have fun!