Throughout my time, I have gone through and shown you each room of our house (minus the basement thus far). Stating what we need/want to do in each room and what I envision for it. Creating the Our House segment on the blog, which I love. I thought typing out a list and putting it on the front of our fridge would help to envision what the house to-do list looks like. Doing what we can when we can and happily crossing it off the list.
Helping move that list, I thought I'd also share it here. More accountability. More to look back on when we share our updates.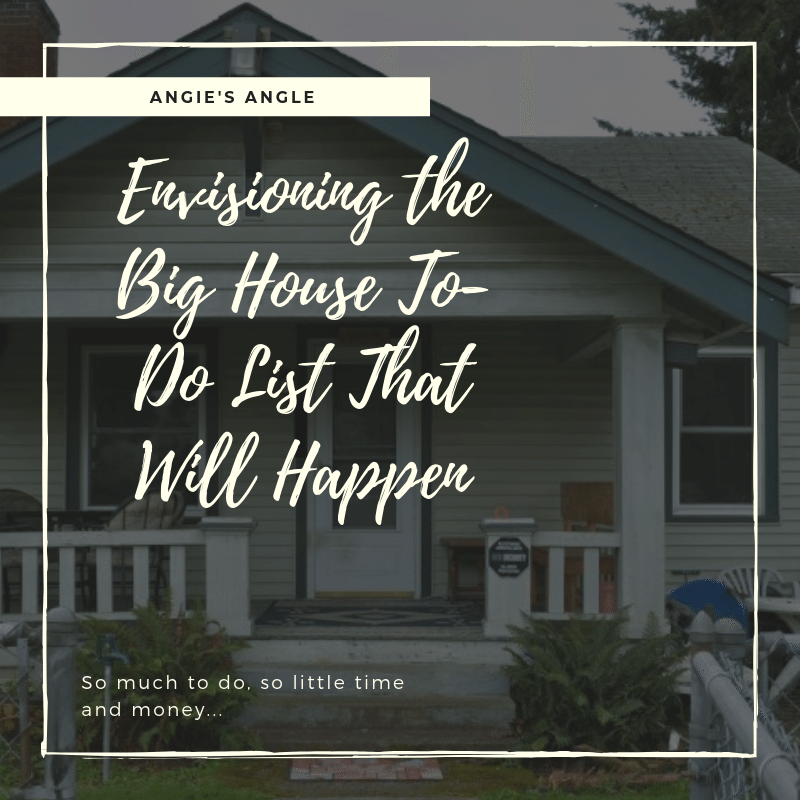 The Big House To-Do List
Most of this list is in random order. Likely I didn't list everything that we need/want to do but it's a decent chunk. The only thing that is in any order is the very first one, the porch redo. That one needs to be done as soon as possible, it's bad.
Rebuild front porch – STAT
Replace Roof.
Put in new Gutters.
Paint All Rooms.
Replace carpet in main floor bedroom.
Get Captain bed for main floor bedroom or build a murphy bed.
Redo Bathroom.
Deep Clean the basement.
Finish cutting up the wood.
Sell things we have to sell.
Make dump runs.
Build a Pantry.
Build a corner shelf in the kitchen.
Buy new couch and chairs.
Put in new grass.
Build back up flower beds in a few places.
Build patio in backyard.
Rebuild Shed.
Check the house foundation.
Build some kind of deck or attachment to shed from nook door upstairs.
Have four garden boxes or six.
Get Surround sound for living rooms – – hide cords from tv and others.
Replace kitchen floor.
Reshape kitchen.
Open kitchen to the dining room to make a bar.
Vanity in our bedroom.
Living Room: Teal, black and maybe splashes of yellow or cream.
Dining Room: Red, black, and white.
Main Floor Bedroom: Red, black, and white.
Main Floor Bathroom: Red, black, and white.
Kitchen: Red and white.
Upstairs: Purple and gray.
Downstairs Bedroom: Teal, white and other splashes of color maybe?