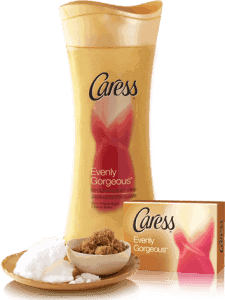 This isn't even one I am testing or anything. I just wanted to share this product cause I feel in love with it after my first use. It's truly a fabulous body wash!
I had a coupon for a Caress body wash, so a couple of weeks ago I was in Target and decided to grab one even though I really didn't need it since I had a coupon. I browsed the aisle and saw several that looked like that might smell pretty good. I ended up with the Evenly Gorgeous exfoliating body wash cause I had been looking for a body wash with exfoliating in it to use a few times a week. Then I even forget to use my coupon. lol oops, but really it was well worth forgetting the coupon.
I have been using it on and off the past couple weeks and oh my gosh HEAVEN in a bottle. It has an amazing scent, has those little exfoliating balls that just feel wonderful as they go over your skin. The suds last too unlike a lot of other body washes I have tried. Your skin after you get out of the shower feels soft and supple and smells just as tasty.
Pick up a bottle next time you think about it and I swear you will not be disappointed in the least!