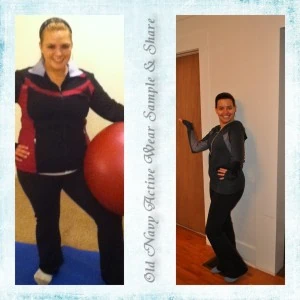 Since I am a member of crowdtap, I finally got picked to do a sample & share through Old Navy. I was so excited and couldn't wait to get my coupon.
The sample & share I was chosen for was the active wear line of Old Navy. The coupon was for one active top & one pair of compression pants. The same type of coupon for a friend of my choosing. I anxiously awaited my coupon arrival in my mailbox. Then it finally arrived and I was so giddy. I hurried and told my friend Mel, that the coupon was here that we'd need to use them quickly since the coupon was only good October 11th through the 25th. The day I received them was the 11th on the dot!
My husband was able to get Melanie's coupon to her the following Friday. She went into the local Old Navy in the mall & had no issues using the coupon at all. Everyone around her was excited she was getting her whole outfit for free. She bought a jacket and pants. She was an extremely happy girl!
I was waiting to use mine until my husband could go with me since I was reading on crowdtap that some were having issues with their coupon so it made me nervous in case I was one to have issues with mine. Protection and back up I felt were needed. I was going to the one over the bridge in Portland in what is called Jantzen Beach. I looked at the things and got several different stuff to try on in the activewear section. I have to say that was probably the hardest part, the stuff wasn't exactly easy to try on.
I was originally going to get the compression tank top, but I just couldn't get it to feel right. One size felt just too tight and the other felt way too big. So I nixed that plan. I finally found a pair of compression pants that I liked the feel of though I thought they made my thighs look huge. But whatever, they fit. The next size up just was way too big for me. Then I decided I guess I'll just get a jacket. I originally wanted this jacket, but they didn't have the right size. Instead, I got this one, well not exactly that one – they don't have the one I actually got online. Mine has a hood & has teal in the hood and this lime stripes. My husband liked it first and then it grew on me. lol
I went up to check out, finally, and was a tad nervous. The lady rang me up and then was just looking at her register & then I said they were both supposed to be free and she goes well sure enough they are that is how they rang up, since its asking me how you want your receipt. She goes that is the BEST kind of coupon to get. I laughed and agreed with her and out the door we went, happy as a clam was I.
By the way, I was MUCH happier once I tried my activewear on at home. They felt so much more comfortable and better looking then they felt to me in the store. I really like my outfit now and highly recommend the Old Navy Active Wear line.