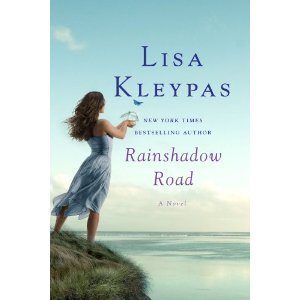 I am so excited to get a sneak peek at Lisa Kleypas's new book Rainshadow Road that is coming out in February, the 24th to be exact! Look at this beautiful cover, who wouldn't be drawn in by that?
Amazon Description of the book:
Lucy Marinn is a glass artist living in mystical, beautiful, Friday Harbor, Washington. She is stunned and blindsided by the most bitter kind of betrayal: her fiancé Kevin has left her. His new lover is Lucy's own sister. Lucy's bitterness over being dumped is multiplied by the fact that she has constantly made the wrong choices in her romantic life. Facing the severe disapproval of Lucy's parents, Kevin asks his friend Sam Nolan, a local vineyard owner on San Juan Island, to "romance" Lucy and hopefully loosen her up and get her over her anger. Complications ensue when Sam and Lucy begin to fall in love, Kevin has second thoughts, and Lucy discovers that the new relationship in her life began under false pretenses. Questions about love, loyalty, old patterns, mistakes, and new beginnings are explored as Lucy learns that some things in life—even after being broken—can be made into something new and beautiful.
I am one of "Lisa's Divas" – a group of select fans who share info & content related to Lisa's novels and get sneak peeks & swag in return.