I took the plunge a couple weeks back and ordered my first thing from Beauty From the Earth. I had been a member of their facebook page for quite a long time, but never allowed myself to actually order. They had this special going for bloggers, so I finally am like what the heck lets do this. So I ordered a jewel tone set of eyeshadow. I hadn't a clue of what would be in the package.
I hadn't forgotten to include my blog link in the order, so I rushed to say oppps and Crystal was like that is fine, just email me your blog link, so I did that. Wahooo. I have to say that I love Crystal, she makes you feel like she knows you and its such wonderful one on one customer service, its just lovely! My package shipped out the next morning & had my sweet little eyeshadows in my hands in a short couple days.
I received: Isis, Glimpse, & Silver. I was a little floored, I wasn't sure what to do with these colors, so not my normal line of colors. Luckily I hadn't put on any makeup yet when the mailman got there, so I went up to play a bit and see what I could come up with.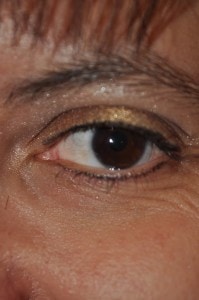 My first attempt at the color combos
The Glimpse is the main lid, Silver is the upper lid
and the Isis was in my crease.
I wasn't super pleased with the color combo, but I wasn't displeased either. It looked better in person then I could get with the photograph at least. And it pretty much looked like what I would normally do.
Now today I went up and played again. I had a case of the blahs, so gave myself a facial and then played with some makeup. My blah's are now pretty much gone. So yay!
Today I got a bit more bold and I have to say I am pretty pleased with the outcome. The boldness of the Isis didn't come out in the picture as well as it does in person (but I did at least get better close up shots this time then last).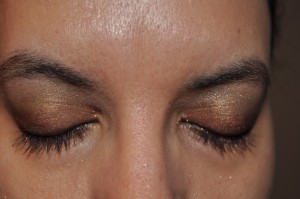 This time I used the Isis as the main lid, still Silver for the top of my lid
and used a slight bit of Glimpse in my crease. You can't really
pick up the Glimpse, but its there.
I love this stuff. Its a loose powder that is so much fun to play around with and you can achieve such wonderful amazing beautiful results. I have a feeling I am going to be becoming a Beauty From the Earth junkie. lol As if I wasn't already a makeup junkie already. 😉