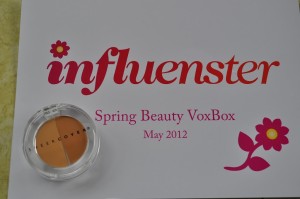 Continuing my awesome Spring Beauty VoxBox from Influenster, I receive this cute little cover up called Sheer Cover. Mine was in Medium/Tan color and matched my skin tone perfectly! I couldn't have been more happy with the color match. It blends in wonderfully on my skin.
Sheer Cover is also good for your skin. Its part of a Mineral Makeup Kit. Their foundation products also have SPF of 15 in them. Minimizes the size of pores (super helpful fact for me)! To see all the added benefits with this makeup line, click the link at the beginning of this paragraph. So many that I can't list them all here. I swear that you'll love them all though!
I have been loving playing with this though and finding what fits me best with this product. I find that, for me, this product works perfectly as a cover up of my veins on the sides of my nose, annoying pimples, and other marks on my face that I'd rather cover up. I use it over my regular foundation for that added coverage. Loving it! I plan to pop it into my purse so I can use it on the go cover up. You know when that annoying pimple pops back out when you are out and about. Its the perfect size for that.
Sheer Cover comes in a handy little kit starting for only $29.95(they come in a varying month "kits"). It sounds like an awesome deal to me, and I'll most likely take advantage of it in the future.
I was given this product free to test and review from Influenster. All thoughts and pictures are my own.