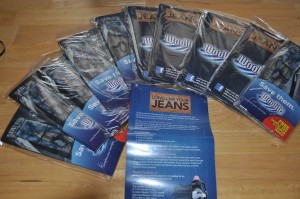 To the left is the kit I received from Crowdtap for the Woolite Extra Dark Care sample & share. I was excited to try this since I didn't want to buy a big bottle of it to try and then not like it. So this was the perfect opportunity to give a try carefree. Plus get to share with others and let them see if they liked it too!
Woolite Extra Dark Care is perfect for many things: your favorite jeans, a vintage t-shirt, a wool sweater, or any other articles of clothing that you just love and want some extra care when you wash them. While you know that regular Woolite was good for your extra dedicates now you can use them in almost all your washes so that you can get that delicate care and have your clothes last longer. Plus have them be more vivid, longer. Won't cause fading, stretching or shrinking either! How can you beat that in a laundry product?
I decided to put the product to the test and washed our dirty jeans with a sample. I took before and after pics to showcase, and I could even see the difference just in one wash. I really thought it would take several washes to see the difference. It was a nice surprise! Also, the detergent smells quite pleasant when you pour it into the washer. Another added bonus 😉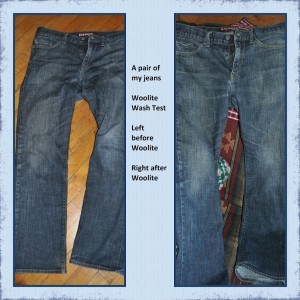 Sharing the pair I saw the most difference in
Now I have a little something for you. I am going to do a giveaway for 2 of the samples I received. Which also includes a $1 off coupon for any Woolite Detergent 50ox or larger, which means one lucky person will be getting two $1 off coupons AND two loads of laundry that can be washed! *see rafflecopter down below to enter*
I was given the samples from Crowdtap free to give out and spread word about Woolite Extra Dark Care. All thoughts and photos are my own.