Then I have the perfect product for you by Rubbermaid – The LunchBlox Sandwich Kit. I was asked to review this new product free from Rubbermaid. I was giddy to try it as I love Rubbermaid and this sounded nifty! I haven't had a chance to put this to actual use, but I have to say that I have had fun playing with stacking them. Like some other reviewer said, well her son said, its like legos Mom. This stuck in my mind, and I giggled that yes they do remind me of legos.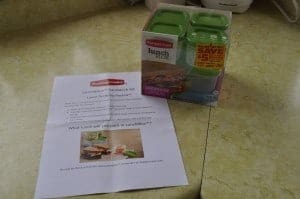 The Rubbermaid LunchBlox Sandwich kit comes with a sandwich container for regular & specialized breads, two snack containers (smaller size for nuts or yogurt) and then a slightly bigger snack container (perfect for vegetables, chips, a small side dish). Then it comes with the secret to keep this all together and nice and chilled for you wherever you go – the special designed Blue Ice that is just for the kit, just snap the containers around the blue ice, and you have a perfect chilled meal for lunch.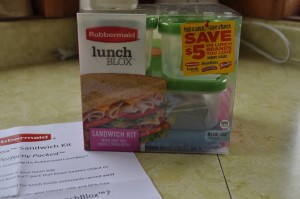 Microwave, Dishwasher and freezer safe and being BPA makes this a hassle free product to use in your home & on the go. No worries about being harmful to you or your family and easy clean up! Can't beat those facts!
There are also different sizes you can add into your collection to fit more on the go meals you might want to take with you somewhere. Take a peek & see what else you might love – Different Sizes
Also, if you go to the Rubbermaid site, there is a coupon there for you to print out to try the new LunchBlox Sandwich Kit (or any of the kits you might find more fitting for you)!
I was given this free from Rubbermaid to review, all thoughts & pictures are my own.