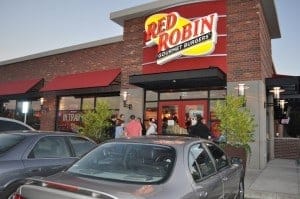 I was scanning my twitter feeds a couple weeks ago & come across Red Robin saying – Live in Vancouver, want to be part of a training dinner (or something to that liking), click this link. So I did and find out its a complimentary meal for up to 4 with certain times & dates to put in your reservation for. The new Red Robin in Vancouver will officially open tomorrow, October 8th, for all business at 2410 Columbia House Blvd. Go in & take a peek!
Thinking oh this could be fun and a neat experience. Was at first going to do just for 2, then I thought well I am sure I could easily find two people to go with us. That itself was a bit of an issue, but finally got what we thought was going to be 4, but ended up being only 3. Oh well, at least we got that one other to join us.
We get there on Friday a half hour or so before 7p.m., I had put our reservation for 7p.m.. We check in with the two workers outside and then we were told to also check in with the gal inside with the tablet so that they could get us in as soon as possible. We do that and then wait.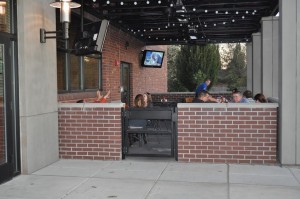 The outside sitting – notice the two tv's?
The place is packed! People are everywhere. They did turn people away that hadn't made a reservation, so everyone there did in fact have a reservation, but wow, BUSY! While we waited, I was able to take a couple pics easily enough outside.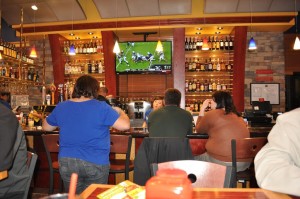 The Bright though small Bar
About 7:15 we finally get a seat in the bar. I start to feel like I am about to have a panic attack for some reason. I felt extremely hot & shaky and couldn't think straight. After about 10 minutes, I started to feel better and could think what I wanted and what we all were getting. Our waiter was great. Patient and attentive even though it was very packed in there and I am sure he had quite a few tables.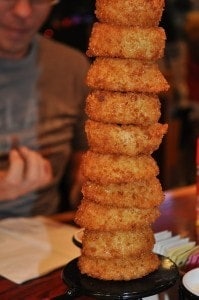 Even ended up getting a free stack of onion rings cause they couldn't find who ordered them in our area. I don't like onion rings, but Jason & Corey were more then happy with this little upgrade.
We all ordered an alcohol drink when we ordered our food. I had an Electric Watermelon with my California Chicken Burger. Jason (my husband) had a Jack & Coke with his Enscada Chicken Platter. Corey (our wonderful friend that came with us) had a Mac & Jack Amber Ale with his Whiskey River BBQ Chicken Salad.
In no time at all we had our meals in front of us. Splendid service, even while in training. Would, without a question, recommend this place and give it high ratings during this training phase. Great meal as well!
Because this was training, this whole meal with drinks only cost us $19.31 before tip, mind you that is just our drinks! 🙂 Thank you Red Robin!